Take this poster and wash it
Full Tilt Cycle's posters do a lot more than raise awareness of the brand.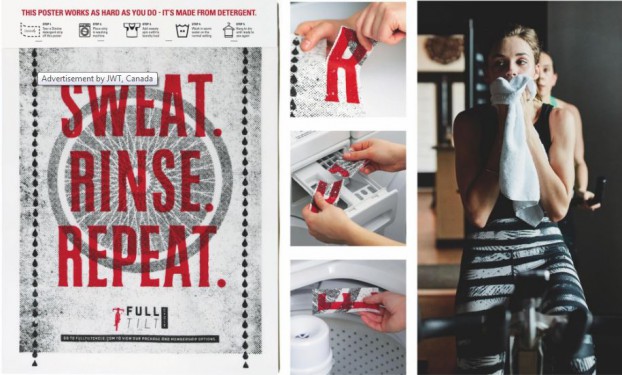 Full Tilt Cycle, a boutique cycling studio in Peterborough, Ont., knows that a good workout inevitably leads to a load (or two) of laundry. Wanting to do its share of the work, the shop created Full Tilt detergent posters with the help of J. Walter Thompson Canada.
The posters are made from pre-perforated and dissolvable strips of laundry detergent. Not only do they come with a side of encouragement – "Sweat. Rinse. Repeat" – but they are also eco-friendly, made with detergent paper and special ink, materials that prevent them from discolouring clothes or dissolving during the printing process. And on top of being eminently practical, the posters were made using bike spokes and drops of sweat to match the distressed aesthetic of the studio itself.
Credits
Agency: J. Walter Thompson Canada
Chief creative officers: David Federico, Josh Budd
Executive creative directors: Ari Elkouby, Cory Eisentraut
Designer: Michael Byzewski
Production director: Nicola Martin
Print production manager: Maria Goss
Senior production artist: Patrick Conway
Production coordinator: Kristina Loschiavo
Producer: Julian Weiman
Photographer: Jessie Lau
Colour artist: Andy Smits