KFC's chicken is truly the bomb
Geometry Global wants you to treat yourself, in the kitchen and in the tub.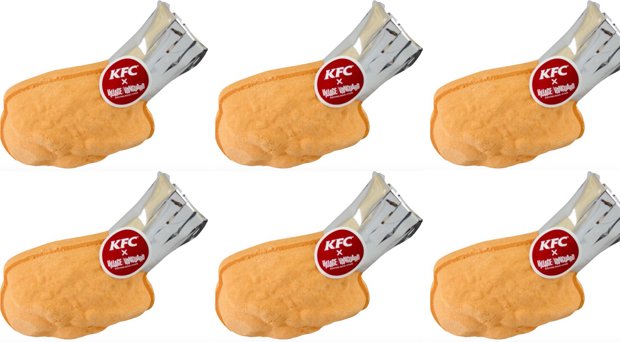 Really, whose idea of a relaxing night at home doesn't involve slipping into a hot bath with a piece of Original Recipe fried chicken in your hand? Oh, a lot of people? Well, that's fine.
In Japan, KFC is serious business, especially on Christmas. And now, the QSR is coming clean about a Christmas-time stunt it pulled in Japan – and how it paid off.
KFC is somewhat of an informal tradition in the country at Christmas. According to the BBC, an estimated 3.6 million families purchase KFC on Christmas, giving restaurants a major boost in sales. That means great news for KFC, but not necessarily for the people working at the restaurants, who spend the day slinging chicken into buckets.
So the chain embarked on a stunt this past year: it distributed surprise chicken-shaped bath bombs to KFC employees (as well as mall Santas and, of course, media and influencers) who had to work on Christmas. Not only did the bomb look like a piece of KFC chicken, it also smelled just like the Colonel's 11 herbs and spices. Uh… refreshing?
In a new advertisement, the company explains the insights behind the stunt, as well as the payoff. While there was some misreporting out there – U.S. late-night talk show host Seth Meyers falsely reported that KFC was selling the bath bombs in Japan, even though they were a limited edition stunt gift and were never widely available for purchase – KFC didn't seem to mind. The stunt resulted in nearly half a million social media posts and an estimated $2 million worth of earned media.
The case study video, released by agency Geometry Global, appropriately captures the delightful absurdity of the bath bombs, as well as how tantilizing they look when sizzling in the vat of hot oil – er, bath water.
Eager to recreate this stunt at home? We figure you can just toss some chicken, baking soda and epsom salts into the bath and get a similar effect (note: please do not try this, ever).
Credits
Brand: KFC Japan
Agency: Geometry Global
Executive creative director: Masato Mitsudera
Art director: Shinmei Yamamoto
Creative directors: Junichiro Yamada, Ken Matsuda, ADK
Planner: Makoto Ueda, ADK
Strategic planner: Daisuke Suzuki, ADK
Media planners: Takumi Nagano, Hiroaki Mikami, Yuto Miyazawa, Haru Mitsue, ADK
Account manager: Atsushi Nishikubo, ADK
Account executives: Hiroaki Omi, Keisyu Takahashi, Kei Oshima, ADK
Production: Tohokushinsha Film
Producers: Takashi Aso, Yuji Shirakami
Production manager: Yohei Matsuda