Balls to the wall in Montreal
Show your true colours. And your balls.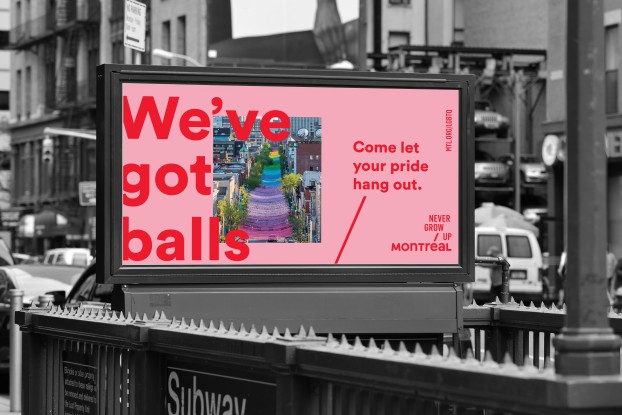 The best way to get attention in advertising is to show your balls.
No, not those ones! Oh gosh, please put those away!
We mean metaphorically. You know, stick your neck out. Take a stand. Be bold.
Tourisme Montreal did just that with its "We've Got Balls" campaign. And the balls weren't just ballsy, they were colourful to boot! The tourism agency, with the help of creative shop Lg2, launched a digital video and OOH campaign showcasing Montreal's ballsy side. The video and OOH material predominantly feature the colourful suspended balls that are part of Claude Cormier's "18 Shades of Gay" installation. The installation, erected in 2017, features thousands of colourful balls – all the colours of the rainbow – suspended over Montreal's Sainte-Catherine Street in the city's gay village.
The balls were initially installed by Cormier as a stunt to mark last year's 375-year celebration in the city, but have quickly become a tourist attraction. Tourisme Montreal decided to capitalize on that, creating a spot that showed Montreal as a positive and inclusive space for the LGBTQ community.
Other famous Montreal landmarks featured in the video include the Orange Julep, the Olympic Stadium and the Ferris wheel.
The campaign is currently being targeted at people in Toronto, New York and San Francisco, to attract even more tourists to the French city.
Credits
Client: Tourisme Montreal
Agency: Lg2