Ready, set, gouge
Not included: A rooftop garden featuring Sir Paul McCartney.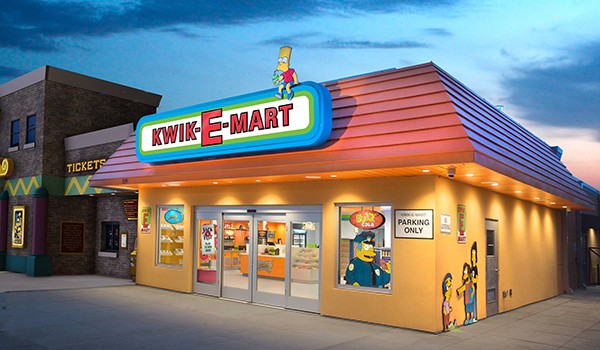 Imagine a world where the Skittlebrau is always stocked to the ceilings, where the Moon Pies and the Freezer Geezers are always cold and where any rich, idealistic 10-year-old can venture to buy a Super-Squishee made entirely of syrup.
We're through the looking glass, people. It's real.
Nestled in downtown Myrtle Beach is the Kwik-E-Mart, a near-exact replica of the iconic Simpsons convenience store. The project was spearheaded by attraction and design company SimEx-IWerks, in collaboration with Simpsons prodco Gracie Films (shh). It's not a pop-up – it's permanent, and it indeed sells popular Simpsons items such as Buzz Cola, Lard Lad Donuts and those signature heat-lamp hot dogs and Squishees.
Besides the glorious junk food, the Kwik-E-Mart also sells classic Simpsons memorabilia, from figurines to souvenir photos.
The interior is also a design dream, with surreal, bright colours, cartoonishly large fixtures with sharp right angles and the products are delightfully absurd.
Also set to open on the same block is the Simpsons-themed Aztec Theater, featuring films such as Mommy, What's Wrong With That Man's Face, Hail to the Chimp and the popular Annual Stock Film Footage Festival.