Eight bits for eight years
The Dallas Stars go old school for Seguin.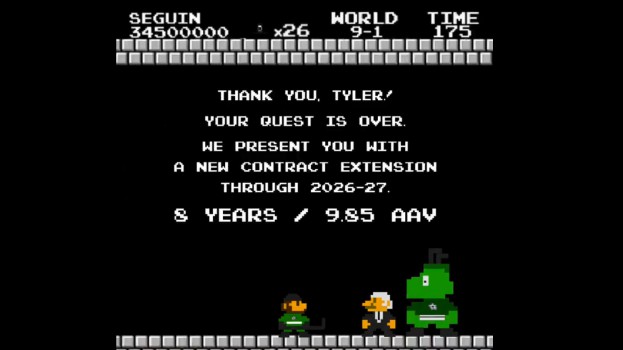 There's something special about the nail-biting anticipation of this time of year for NHL fans. As we inch progressively closer to the pre-season, it's a game of constant refreshing, looping back to whatever news site or app you keep up with the game on, to see who's been traded, who's signed, who's extended their contract and who's out.
For some (self included), the edge-of-the-seat sensation is awfully similar to the good ol' days of sitting on the couch playing video games, palms sweaty, teeth gritted, breath short, not wanting to miss a second of the action.
This social short by the social team at the Dallas Stars captures that feeling perfectly, and also gives fans of centre Tyler Seguin something to dance and gloat about. The video served as an announcement for Seguin's newly signed extension – $78.8 million USD for eight years. It features an 8-bit version of Seguin starring in a replica of the original Super Mario NES game.
From the familiar, old-school arcade music to Seguin expertly knocking out logos of teams including the Blackhawks, the Wild, the Penguins and more.
On that note, maybe the Sens could have softened the blow of trading Karlsson to the Sharks if they'd announced it in a Chrono Trigger-themed video.
— Dallas Stars (@DallasStars) September 13, 2018