HSBC Canada rolls out the world's largest welcome mat
The mat is on display near Pearson International Airport until Sept. 30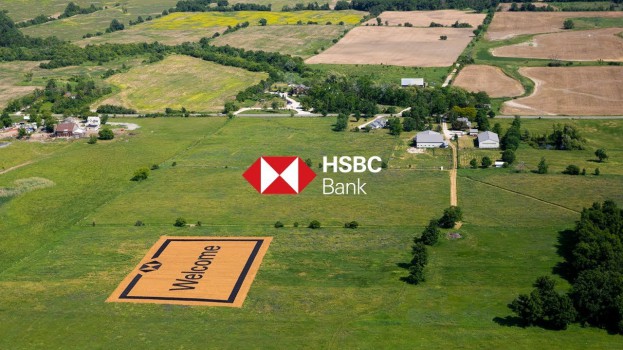 Vast stretches of lush green fields or white blankets of snow are the typical views while landing at Pearson International Airport into Toronto. HSBC Canada added a new element to this scenic beauty: a welcome mat the size of two football fields (85,000 square feet).
A one-minute spot shows the shadow of an airplane hovering over pastures before cutting to a shot of men setting up the mat using eco-friendly and reusable materials. As the plane's shadow reaches the mat, the "Welcome" message is so huge that the plane casts a tiny shadow on it.
"This is a busy time of year when millions of us are on the move to refresh, explore and have new adventures – and then we all love to come home," said Larry Tomei, EVP and head of retail banking and wealth management , HSBC Bank Canada in a statement.
HSBC has been nicknamed as the 'airport brand' for buying spaces in and around airports across the world, including in Toronto, Vancouver, Montreal and Calgary, for its branding activities such as placing their logo on jet bridges, OOH inside airport terminals and in some cases, rolling out a massive welcome mat.
Changes in Canada's immigration policies have seen 300,000 newcomers arriving every year, welcoming almost 20 million international visitors. The welcome mat literally stitches this idea along with HSBC's motto to be the bank of choice to travelers, newcomers, and visitors. It will stay on display for the rest of the month.