Mister golden sun, please shine down on me
Tourism Yukon is bringing the midnight sun south.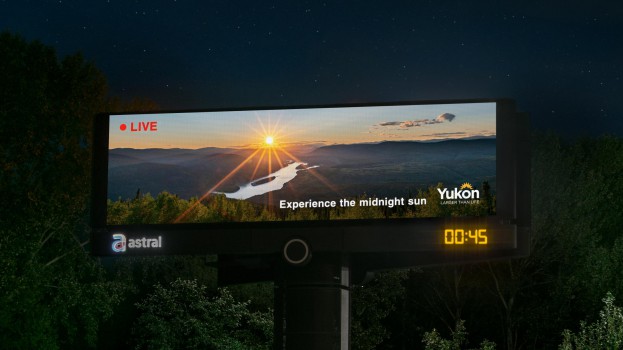 Have you ever traveled a few hours north of Toronto or Vancouver and thought to yourself, the sun seems like it sets a little later around here. Maybe you've been up to Manitoulin Island or even the Canadian Rockies and experienced the fun of watching the sun go down at 10 p.m. and thought, "Now this is really something!"
Please. Try a trip to the Arctic Circle. Those lucky enough to experience the "midnight sun" in the Arctic Circle – where the sun stays out until midnight for much of the year – can tell you there's nothing quite like it.
But this billboard just might come close.
Cossette created a unique digital billboard for Tourism Yukon to promote travel to the region, by streaming images of Yukon's midnight sun during its brightest two weeks. All the streaming took place between 10:30 p.m. and 1:30 a.m. on digital billboards across Vancouver.
Now that's a heck of a way to light up the night.
Credits
Client: Tourism Yukon
Agency: Cossette
Global chief creative officers: Peter Ignazi, Carlos Moreno
Executive creative director: Katie Ainsworth
Creative directors: Pierre Chan, Scott Schneider
Art director: Kelsey Hughes
Copywriter: Mark Wilson
Photographer: Alistair Maitland
Account director: Lindy Scott
Director of integrated production: Thomas Rousselot
Media: Bell Media