Bjorn Borg wants your drugs
Nord DDB's pop-up wants to exchange a real high for a runner's high.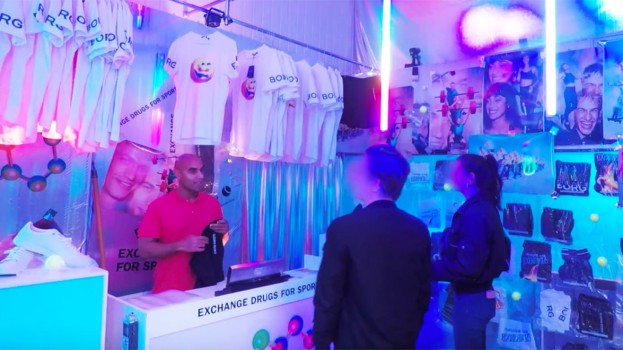 What do you do when you decide your party days are over?
Maybe you head to the thrift store and toss your rave-ready Modrobes in the donation bin. Maybe you decide that once-hilarious "Who has two thumbs and likes beer?" T-shirt is now only a sleep shirt. Maybe you stop worrying about keeping up your seemingly endless supplies of red cups and crop tops, and eventually, the word "WOO!" leaves your vocabulary.
You could also, as it turns out, trade some of your drugs for activewear. No, seriously, you can do this. At least, in Amsterdam (of course it's Amsterdam).
Swedish activewear brand Björn Borg and agency Nord DDB created an Amsterdam pop-up shop earlier this month that didn't take money, but instead accepted drugs as currency.
Seems like a sting, right? Well, it's official; it's part of Björn Borg's "Chase the Exerhighs" campaign, which combines totally trippy imagery and art direction to promote the idea of a "runner's high" (or a lifter's high or a climber's high or a Pilates-er's high). The campaign is fun and more than a little ridiculous, but then again, so is the shop, and it seemed to work out well for them.
Credits
Client: Björn Borg
Marketing director: Jonas Lindberg Nyvagn
Brand marketing manager: Johanna Juhlin
Agency: Nord DDB
Chief creative officer: Andreas Dahlqvist
Account director: Hanna Ternström
Account manager: Linda Lonaeus
Art director: Clara Uddman
Art director: Petter Swanberg
Senior copywriter: Martin Lundgren
Senior designer: Jesper Hellzén
PR director: Susanne Johansson
Planning director: Johan Rynell
Planner: Andrea Dahlbäck
Designer: Tor Westerlund
Social media and content manager: Jonas Eriksson
Production: House Agency
Producer: Matilda Callenbo
Producer: Stefan Wikström
Interactive producer: Erik Hagström
Director: Matilda Callenbo
Production manager and coordinator: Christine Norberg
Director of photography: Natan Gullström
Director of photography: Olle Lindholm
Post producer: Tomas Wall
Klipp: Gustav Öström
Online/grade: Natan Gullström
Set design: Linda Björkman, Johan Ryman
Illustrator: Patrick Saville