Getting to the meat of your ad
Sid Lee's new spot for KFC cuts out all the montages, establishing shots and bread.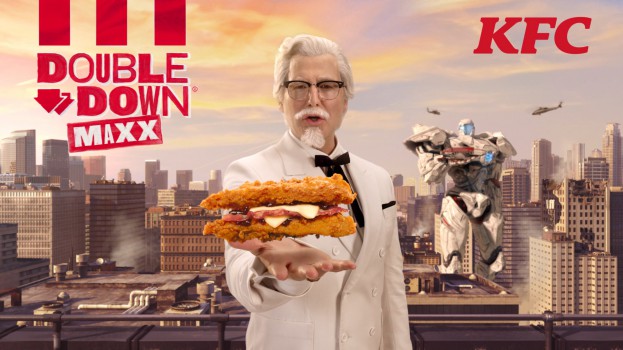 History is filled with amazing comebacks. Britney Spears. Mickey Rourke. Ellen DeGeneres. The critically lukewarm animated film We're Back (if that counts).
Well, KFC is banking on another big comeback: the Double Down. Remember the famous double chicken sandwich with bacon and cheese where the chicken fillets took the place of the buns? Well, it's back. To the maxx.
The new Double Down Maxx, which is in stores until Oct. 29, is larger and in charge-er. And since the sandwich means business, so does Colonel Sanders in the new French spot for KFC.
Conceived by Sid Lee Paris, the video ad shows Sanders, apparently a more particular director than Stanley Kubrick, cutting out more than 75% of what would have been an action-packed promotional video in order to focus on the shot of the chicken.  No build-up, no story, no training montages, just chicken.
It's a metaphor, you see! The montages, the establishing shots, the narration, that's your bread. And Sanders isn't concerned with it. Just the "meat" of the ad.
Credits
Brand: KFC France
Agency: Sid Lee Paris
Brand supervisors: Pascale Laborde, Sophie Lacroix, Caroline Bicais
Chairman/executive creative director: Sylvain Thirache
President: Johan Delpuech
Managing director: Mehdi Benali
Business director: Antoine Ferrari
Account director: Héloïse Marchal
Account manager: Camille Caucat
Creative directors: Céline & Clément Mornet-Landa
Copywriter: Simon Lamasa
Art director: Francis Pluntz
Brand strategist: Ambroise Soulé
Agency head of production: Thomas Laget
Agency TV producer: Benoit Fernandes
Production Company: Wizz
Producer: Amanda Stubbs
Director: Akama
DOP: Remy Chevrin
Post production: NKI / Emilie Nicodex
Post producer: Nataly Aveillan
3D: Wacyl Djender