A kick in the junk
Trading app Bgon's short shows the burden of having too much junk.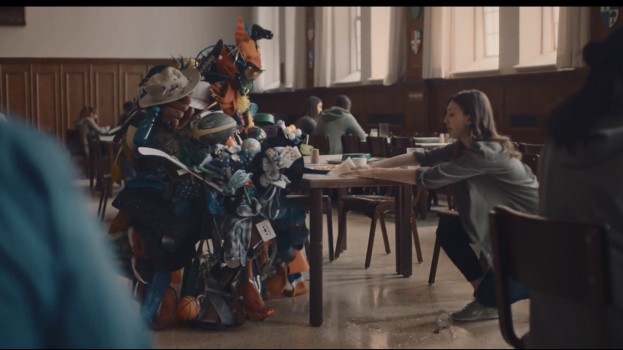 Some of us are much, much messier than we let on. That person at your office who normally keeps their desk clean might secretly have a linen closet that's about to burst. Your friend who looks amazing every time you see her might actually have a car full of take-out wrappers. That woman from your mommy group who drives a beautiful car and has an amazing wardrobe? She has a family room floor you could eat off of – literally.
It's not deceitful, it's just that most of us aren't eager to air our dirty laundry (especially when it's actual dirty laundry). But student-targeted app Bgon, which enables young people to trade their unwanted, excess stuff, dreamed up a funny little film on what it would look like if we actually carried our dirty laundry (and old trinkets and band merch and DVDs and used textbooks) around with us.
It's hard not to feel bad for "Junkman," the titular hero of the short (created by Canadian agency Feast Interactive). He just wants to live a normal life, hanging out with his friends, getting to class on time and even making some moves on his girlfriend. But because Junkman carries all his clutter with him, that makes things a little hard.
Fortunately, his girlfriend doesn't give up on him. In fact, she helps him get rid of his stuff through the Bgon app. In the end, not only is Junkman freed from (most of) his junky burden, we also see that he's a normal, good-looking guy underneath. And clearly, he's not too bad at letting go of things. You know, Junkman has a lot of things going for him!
Credits

Brand: Bgon
Agency: Feast Interactive
Writer: Ante Kovac
Director: Ante Kovac
Creative director: Rob Vena
Director of photography: Stuart Campbell
Editors: Geoff Ashenhurst, Leo Zharatos
Composer: Michael Butler
Executive producer: Liam Benstead
Producers: Marc Swenker, Spencer Butt, Nathan Dharamshi
Costume designer/stylist: Lea Krpan
Production designer: David Dennis
Art director: Lucas Gordon
Colorist: Wade Odlum
VFX: David Whiteson
Music supervisor: David Hayman
VFX/Colour grading: Alter Ego Post
Editorial: Married to Giants
Sound design: Urban Post Production