Feeding a stadium, one mouth at a time
Hellmann's partnered with MLSE on delivering stadium leftovers to families in need.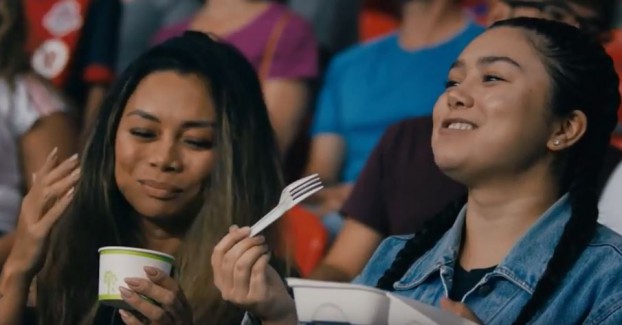 Canada's food waste problem is stadium-sized.
Every minute, according to Unilever's Hellmann's (best known for its mayo and spreads), Canadians waste enough food to feed the equivalent of an entire stadium – even as four million of their peers go hungry every year.
To shine light on the issue, the company partnered with Jean-Francois Archambault, CEO and founder of La Tablée des Chefs (a food rescue program) and Maple Leaf Sports and Entertainment on a "Real Food Rescue" initiative.
As part of the program, Hellmann's and MLSE have been taking leftover food from events at Toronto's Scotiabank Arena (the third-busiest arena in North America) and donating it to local families in need. Ogilvy Canada helped launch the effort last month by giving out free food to spectators at a Toronto FC game, airing a video at halftime that let people know where the food had come from.
With Mindshare on media and Edelman on PR, the brand ran a broader campaign to help educate Canadians about food waste, while providing tips and information on how they can conserve more food at home.
Credits
Advertising agency: Ogilvy Canada, Toronto
Chief creative officer: Brian Murray
Copywriter: Samantha Ramsay
Art director: Amy Fernandes
Strategist: Robyn Hutman
Senior partner, group account director: Aviva Groll
Account supervisor: Samantha Weisbarth
Account executive: Serra Tokat
Global ECD for Unilever: André Laurentino
Production: Spy Films
Director: Tamir Moscovici
Editor: Chris Murphy / Outsider Editorial
Audio: Grayson Matthews
Music: Big Sync