Bread that gets you wasted instead of being wasted
Bob's Your Uncle shows just how intoxicating it can be to reduce food waste.
There are a few things you can do with stale bread: croutons. French toast. Holiday stuffing. Bread pudding. Crostini. Panzanella. The power of a few day old slices is vastly underestimated – but perhaps we haven't been paying attention.
Maybe if we brought beer into the conversation, our ears would perk up a little more. Charity Second Harvest did just that with its new specialty brew, Been a Slice. The project was part of a collaboration with agency Bob's Your Uncle (which developed the concept pro bono), brewer Common Good and Prairie Boy Bakery. Additionally, Outfront Media provided billboard space and My Brother Darryl developed the web component.
It's part of Second Harvest's mission to reduce food waste, but for Common Good, it also helps build its brand affinity. And with all the attention paid to waste these days, why not?
It's not just bread that tends to get tossed aside too flippantly. According to the Food and Agriculture Organization of the United Nations, one-third of foods produced for human consumption gets wasted every year. That's 1.3 billion tons of produce, packaged foods and, yes, bread.
Check out how it was made.
Besides the digital video, the creative has also been fashioned into an OOH campaign, promoting the beer "brought back from the bread." Think of it this way: beer is just bread that was given a second chance.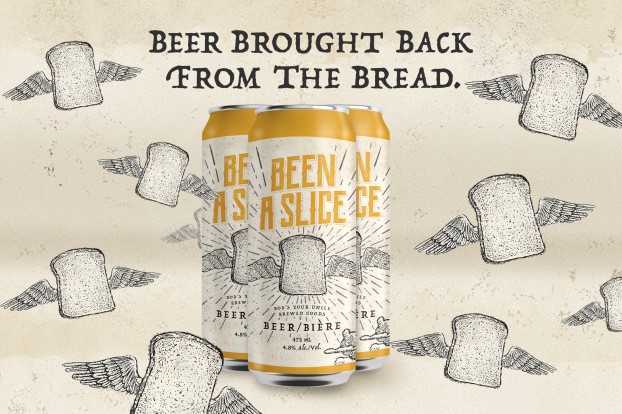 Credits
Client: Second Harvest
Agency: Bob's Your Uncle
CCO: Dorothy McMillan
Associate creative director: Daryl Klein
Art director: Philippe O'Rourke
Copywriter: Brian Flay
Account director: Kira Campbell
Account manager: Jessica Abela-Froese
Digital project manager: Tony Geer
Brewer: Common Good Beer Co.
Developer: My Brother Darryl
Animators: Blame Your Brother
Videographer: Oliver Ward