Fearless Girl's bulletproof message against gun violence
McCann New York's celebrated statue throws on a vest to stand up against gun violence in the U.S.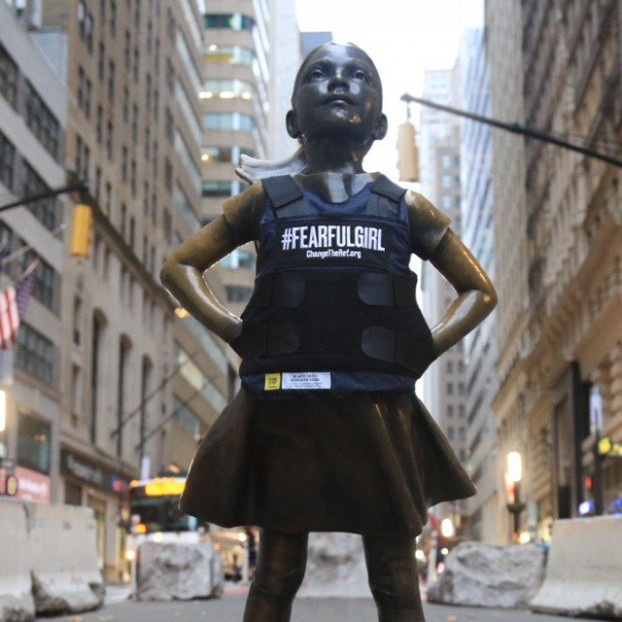 It's amazing how fool-proof a bulletproof vest is at flipping a statue's meaning on its head.
For about an hour on the night of Nov. 2, McCann New York's Fearless Girl statue, the Cannes Lion-winning depiction of a girl fearlessly facing the Charging Bull, was transformed into a statement against gun violence.
Fearless Girl was commissioned by New York's State Street Global Advisors for International Women's Day 2017 and quickly became a symbol for gender diversity and women's rights, especially within the financial sector. But on Friday, with the addition of a bulletproof vest, the celebrated figure was wearing a second meaning: "She can't be fearless if she's afraid to go to school."
Those words were included in a Tweet  from gun reform group Change the Ref, founded by Manuel and Patricia Oliver, whose son Joaquin Oliver was a shooting victim at Marjory Stoneman Douglas High School in Florida.
The initiative was the first to be executed as part of Fight Gunfire With Fire, a creative project founded earlier this year by advertising agency MullenLowe and The One Club for Creativity. Fight Gunfire With Fire invites advertising students to submit creative ideas on how to address the problem of gun violence in the U.S.
According to AdWeek, Change the Ref and its partners had planned to placed the best on the Statue of Liberty, which "proved impractical for obvious reasons."
Credits
Agencies/Partners: Change the Ref, MullenLowe, The One Club for Creativity.