Germany doesn't know what KLM stands for
… so the brand went above and beyond to tell them the answer.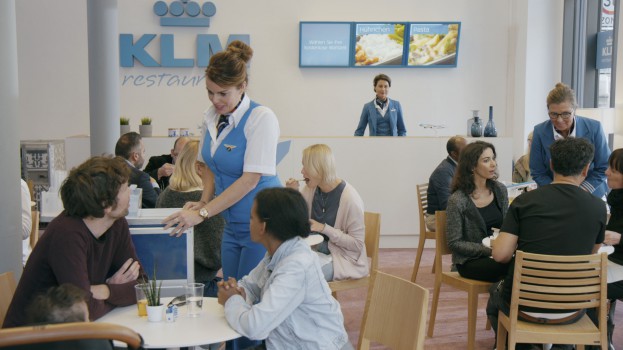 The Royal Dutch Airlines, also known shortly as KLM, turned itself into a restaurant, a bank and a radio station to let all of Germany know that it is none of the above, and in fact is simply an airline. KLM worked with DDB and Tribal Amsterdam on the experiential brand awareness campaign, "We are an Airline." The goal was to trick people, especially tourists, into believing that the brand was everything but an airline.
The 90-second video spot shows people eating a free meal at an aviation-themed restaurant receiving a free air ticket instead of cash from a KLM ATM and tuning into KLM radio from their cars.
The campaign was executed in part because nearly half of Germany's population – 46%, according to the company – does not actually know what KLM does. The airline decided to poke fun at this by turning KLM into everything that it isn't.
Apart from the experiential elements, the campaign continues on radio and digital platforms across the country.
Credits
Client: KLM Royal Dutch Airlines
Agency: DDB & Tribal Amsterdam
Managing director: Esther te Pas
Creative director art: Ed van Bennekom
Creative director copy: Jasper Diks
Producer: Jesse Houweling
Production company: Who's McQueen
Director: Jonty Toosey