Coasting down the motherboard highway
Artwork portrays the importance of tech for Argentina's rural communities.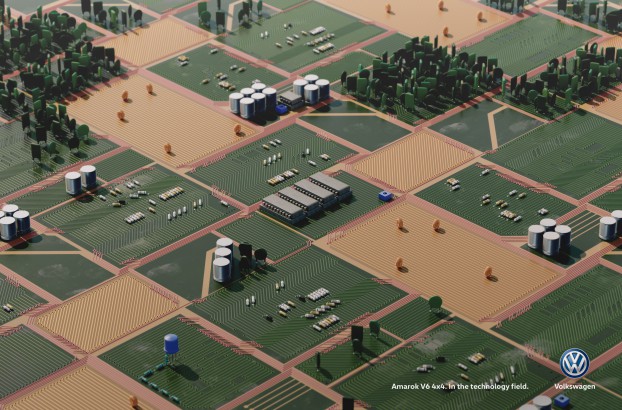 You're riding down the idyllic Argentine countryside, a sleek CPU socket on your left as a black CMOS battery quickly fades in the rear-view mirror.
For the rural millennials and young agricultural workers living in Argentina, vast crop fields can feel like the slightly undulating surface of a motherboard, as they rely more and more on technology to get the job done.
Part of their arsenal: the tech-heavy Volkswagen Amarok 4×4.
Ads designed by Geometry Argentina for the VW pickup truck provide an aerial glimpses of the Argentine countryside, which upon second glance, reveal themselves to be the surface of a motherboard. The concept behind the artwork, appearing as newspaper, magazine and out-of-home ads, aligns with the campaign tagline, "Amarok 4×4. In the technology field.
The execution is meant to target a younger generation of drivers, as they are the ones tending the fields of Argentina today.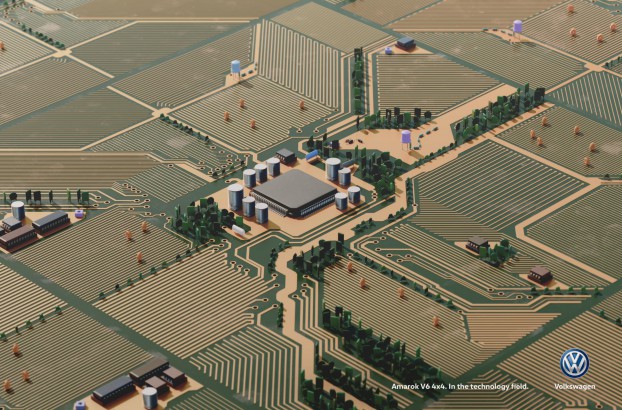 Credits
Client: Volkswagen
Agency: Geometry, Argentina
Chief creative officer: Tony Waissmann
Creative directors: María Luján Donaire, Hernán Damilano
Art director: Santiago Castro
Copywriter: Paula Carboni
Illustrator: Esteban Ponce
3D: OWL