MS Paint me a picture
Sid Lee Collective and Toronto's OnlyOneGallery collaborator to showcase the lasting creative power of MS Paint.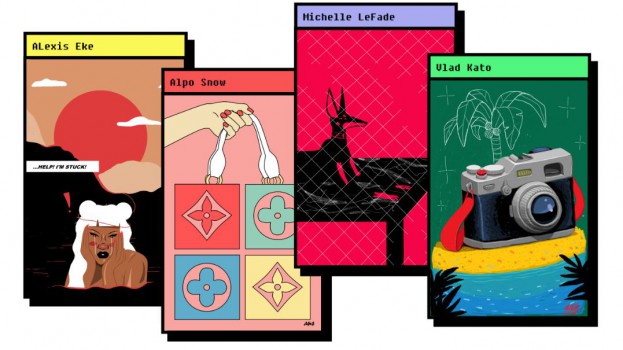 In July 2017, creative types – many of whom can attribute their future career success to digital doodling on MS Paint – breathed a huge sigh of relief when Microsoft decided to salvage the program after having announced it would discontinue it only one month earlier.
For 33 years, the availability of MS Paint has allowed visual artists, graphic designers and creative people in general to express themselves using squiggly lines and a whole range of colourful shapes.
Now, to celebrate the program's anniversary month, Sid Lee Collective (the agency incubator that funds employee passion projects) teamed up with Toronto gallery OnlyOneGallery to design a "love letter" to the program in the form of a collection of artwork called "WeLoveMSPaint."
The project consists of original artwork and social content by OnlyOneGallery artists Alexis Eke, Vlad Kato, Michelle LeFade and Alpo Snow. In the true spirit of MS Paint, the creators were given no creative direction or constraints, according to Sid Lee. Rather, each was simply asked to interpret their style or body of work using the application.
Jeffrey Da Silva, executive creative director at Sid Lee, said the idea is to "show how MS Paint continues to be a driving force and prove that creativity can be expressed on any platform."
Credits

Agency: Sid Lee Collective
Executive creative director: Jeffrey Da Silva
Art director: Sam Heichert
Writer: Sean Ngo
Strategists: Nancy Chen and Mel Eshaghbeigi
Producers: Setareh Sarmadi and Kelsey-Lynn Corradetti

Partner: OnlyOneGallery
Gallery founder and director: Cais Mukhayesh
Gallery coordinator: Carolyn Tso
Artists: Alexis Eke, Vlad Kato, Michelle LeFade and Alpo Snow