Arkells take fans into the creative process
From a pizza-fueled kid choir to a NOLA brass chorus, here's what we learned.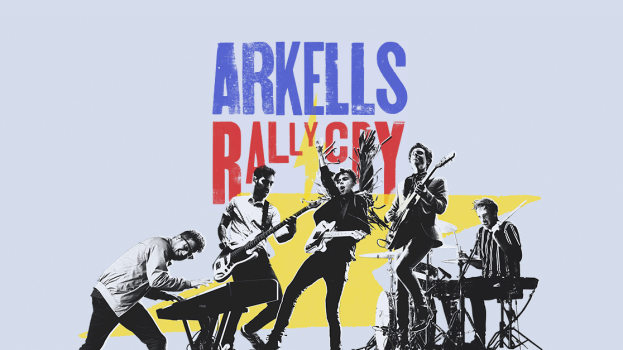 There are few current Canadian bands with the mass appeal of Hamilton's Arkells. High off the release of their fifth studio album, Rally Cry, the peppy rockers have transcended from campus rock to stadium anthems.
Like them or not (but really, who doesn't like these guys), Arkells have developed a reputation for being very fan-first – which is why their current trend of breaking down the writing process for their songs has been so classic-them.
On both Instagram stories and Twitter, the band has taken fans into the writing process for ballad "Show Me Don't Tell Me" and now the triumphant "Eyes on the Prize." Check out the highlights from the latter, from the adorable (pizza-fueled) kid choir to the NOLA brass-inspired chorus.
Music nerd thread:
Eyes On The Prize from RALLY CRY is the most adventurous song we've written.
Influences include: @chancetherapper / @PresHall / @springsteen / JUSTICE / @AndersonPaak.

Tim sent over a beat that got me thinking about @outkast "So Fresh So Clean. pic.twitter.com/45MUXazFVu

— ARKELLS (@arkellsmusic) November 26, 2018
I got home from the bar one night, sat at my out of tune piano, and had the beat in my head. Wanted something soulful. This is what came out. Called it Anderson Kay for @AndersonPaak / @KAYTRANADA pic.twitter.com/RTdgUAcGUv

— ARKELLS (@arkellsmusic) November 26, 2018
I've always been obsessed with Justice's D.A.N.C.E song, and curious how they recorded the kids vocals in the chorus. Turns out they got a choir to sing it.
We didn't have the time to get a choir, so we recruited some neighborhood kids. We paid them in pizza. pic.twitter.com/HjZpgIJD7L

— ARKELLS (@arkellsmusic) November 26, 2018
The chorus was begging for some New Orleans Brass. When you visit NOLA, the magic in the air is because you see this at every turn. pic.twitter.com/5z2UmhNUt5

— ARKELLS (@arkellsmusic) November 26, 2018

The people's champs, indeed! We'd love it when bands – and cartoonists, and writers, comedians and more – take us behind the scenes of the creative process. It reminds us that art is for the people, while showing us all the hard work that goes into creating it.