Burger King goes to McDonald's
The burger joint's latest trolling efforts involve selling penny Whoppers when customers are near its competitor's stores.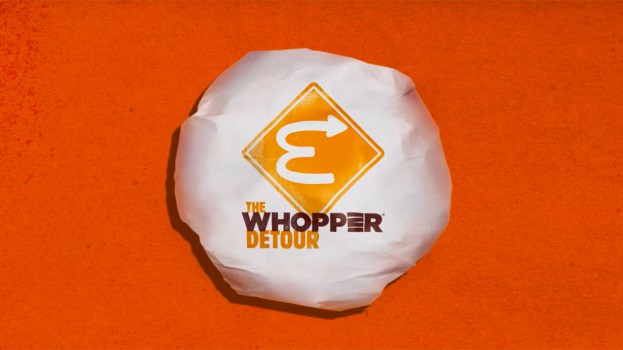 Burger King kicked off its latest effort to troll McDonald's with a cryptic tweet:
brb going to McDonald's

— Burger King (@BurgerKing) December 4, 2018
Anyone who's has been following the QSR chain's recent crazy advertising stunts, which on at least a few occasions has involved mocking one of its largest competitors, knew something was up.
This time, the burger joint is running a "Whopper Detour" promotion, offering customers in the U.S. burgers for a penny to create buzz for its revamped mobile app. All customers need to do is download the app and use it to order within 600 feet of a McDonald's location (there are 14,000 in the U.S.) Once the order is placed, the app directs the user to the nearest Burger King restaurant for pickup. And because the deal is activated using geo-fencing technology, you can technically order from your car (while taking in a view of the iconic Golden Arches).
how do you order a Whopper sandwich for a penny "at" McDonald's? here's how. #WhopperDetour https://t.co/lAgbGO0bL0 pic.twitter.com/ANXIy6Yu9I

— Burger King (@BurgerKing) December 4, 2018
As some people have pointed out, pricing the burgers at a penny is an ingenious way to get customers to download the app and save their credit card info, making future purchases that much easier. Otherwise, Burger King may have decided to hand them out for free – in the name of a good-ol' fashioned ribbing, of course.
When it comes to McDonald's, the brand can be downright ruthless.
morning everyone. if you happen to be going to McDonald's today, drive safe

— Burger King (@BurgerKing) December 5, 2018