A new drink to burst your bubble
Burns Group has spearheaded the launch campaign for a new alcoholic beverage that shines without sparkle.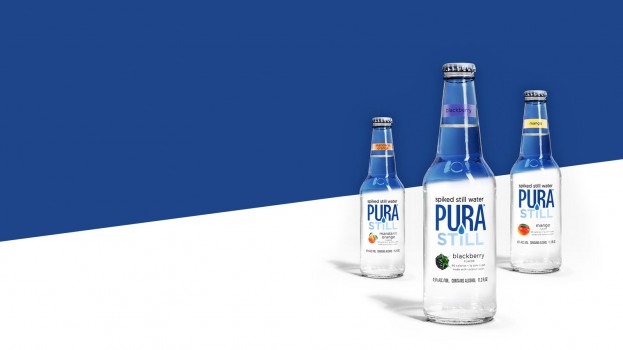 Just in case you've been living under a rock the last few years, we thought we'd remind you that bubbly water is (apparently) where it's at. Between the rise of La Croix from bourgeois niche drink to cultural icon (possibly because, according to this chart, it's the most optimal food/drink for all millennials) to Pepsico's launch of competitor Bubly and, of course, the pervasive popularity of SodaStream, it seems there's a case to be made for all things sparkly. Including drinks.
But what if you're not into fizzy water? What if, like a certain Stimulant editor, you're part of the increasingly isolated (but very sane) demographic of people who think sparkling water is an assault on the senses? What if you firmly hold onto the belief that the sparkling water experience is comparable to taking a mouth full of unflavoured Pop Rocks while passively thinking about a fruit flavour?

Don't worry. There's a drink for you.
Pura Still, a new spiked still water owned by U.S. beer giant Fifco USA, recently embarked on a launch campaign with Burns Group. The goal? To let people know that you don't need bubbles to have a good time. Pura Still markets itself as the first "spiked still water."
The campaign messaging, "Anything but Flat" reiterates that while Pura has no bubbles (hallelujah), "flat" isn't the name of the game here. The key visuals of the campaign feature hero shots of the product itself, which, naturally, show no little sparkles or bubbles. The creative features people (beautiful people, naturally) navigating around comically large bubbles. Which, in fairness, is how bubbly water feels for some people.
For those who aren't digging the whole sugar thing these days either, the product also boasts only one gram of cane sugar. Hey, no wonder those people look so good!
Credits
Client: Pura (Fifco USA)
Agency: Burns Group
Executive creative director: Nicole Lucey
Associate creative director: Sarah Ratinetz
Copywriter: Tim Glebocki
Group account director: Emily Stern
Account supervisor: Hilary Bergman
Head of strategy: Chamie Baldwin
Director of integrated production: Alanda Fellows