Doritos throws in a towel
We've all been there: bright orange fingers after a bag of chips. Agency Gefen Team has a solution.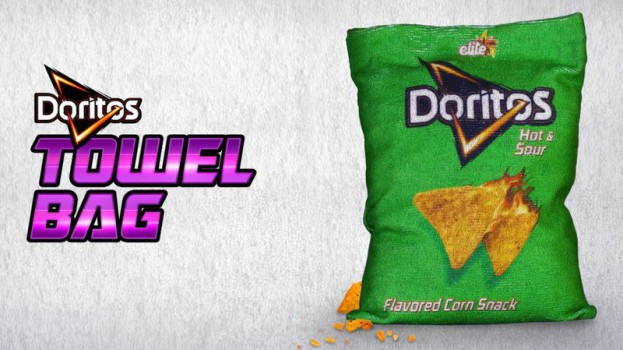 We've gotten a lot of pitches lately about brands, specifically in food and CPG, shifting toward more eco-conscious packaging, whether it's stuff that uses less water to produce or containers that are reusable. At the same time, brands are being challenged to innovate, to create multi-hyphenate products that do more than what they say on the package, that make your life a little easier.
Two birds, meet stone. Signed, Doritos.
In Israel, the Frito-Lay-owned brand decided to create a new version of its packaging that wasn't just reusable, it also solved one of life's most pervasive and live-altering problems: dirty Dorito fingers. Pairing with Tel Aviv agency Gefen Team as well as gaming retailer Bug (naturally), Doritos produced a limited edition Towel Bag.
The Towel Bag, made from 100% terry cloth towel, is machine-washable, so after you polish off a bag and wipe your disgusting, grimy fingers, you can put it through the wash and use it for, I don't know, healthier food. Carrot sticks, perhaps?
Or more Doritos. It's up to you.
The campaign is heavily targeted at the Israeli gaming community, and also taps local gaming influencers to promote the bag. It's available through Bug stores for a limited time.
The Towel Bag has us thinking of all sorts of cool products that solve their own problems for you. Perhaps tiny powdered donuts that come in padded packaging so it doesn't make a sound when you open it? Burritos that come with some sort of catch basin? It's 2019, people. Let's be a little more innovative with our junk food.
Credits
Client: Frito-Lay, Doritos
Agency: Gefen Team
Product design: Ram Solell
Director: Asaf Asulin