Fool's gold
Brazilian fact-checking website E-Farcasa is handing out shiny Foolitzer Prizes to the worst culprits of fake news.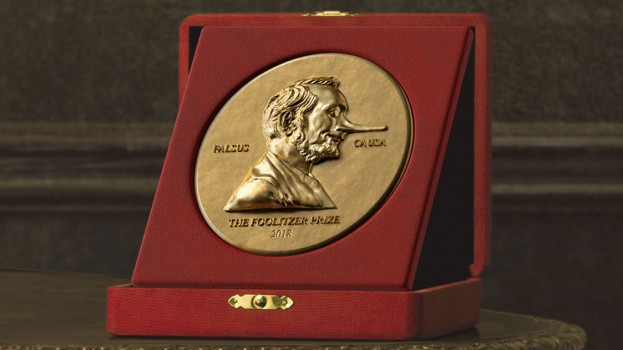 Have you heard? A certain spray-tanned world leader just called Brazilian immigrants "Latin pigs." And the world's first cannibalistic restaurant is set to open in Tokyo. And there's a killer drone flying around that's equipped with AI and real ammo.
Okay, you're not that naive, right?
The world of online news can be a shocking and terribly depressing place, even more so when hogwash is peddled as real news. Luckily, there's a new prestigious "anti-journalism" award that's goes toe-to-toe with the worst culprits of the fake news netherworld: the Foolizer Prizes.
For the first time, Brazilian fact-checking website E-Farcasa is handing out the awards, which are modeled after the American (and actually prestigious) Pulitzer Prizes.
Judges will select the worst fake news stories of the year – like some of those listed above – across several categories, including politics, health, conspiracy, sports and entertainment. Voters will also have their say: an additional "popular vote" category asks news consumers to pick the worst fake news item of the year.
São Paulo-based Leo Burnett Tailor Made worked with E-Farcasa on spreading the word about the award that, in its own words, will "give fake news producers what they want least: fame and spotlight."
Credits
Agency: Leo Burnett Tailor Made
Title: The Foolitzer Prizes
Advertiser: E-Farsas
CCO: Marcelo Reis
ECD: Wilson Mateos
Creative diretor: Pedro Utzeri, Vinicius Stanzione
Created by: Breno Balbino, Fabio Nagano, Filipe Medici, Renato Ramalho.
Integrated production: Maria Fernanda Moura
RTV: Viviane De Castro, Patricia Cosmo, Matheus Basílio, Chrystian Danucalov
Art buyer: Cristiano Godoy, Mauro Moura
Graphic production: Pedro Sotelo
Digital projects: Denis Gustavo, Pedro Rais, Marcela Grandino
Account services: Fabio Brito, Simone Lopes, Viviane De Castro
Media: Andrea Hirata, Kelly Cotta, Thais Miranda, Joao Bouner
Planning: Tiago Lara
Approval: Gilmar Lopes
Film production: Asteroide
Director: Guilherme Biglia | Thiago Prestes | Caja Guedes
Executive production: Guilherme Biglia
Account services: Leo Brodsky
Producer: Mariana Van Bylt
Post-production: Bogotá
Audio production: Evil Twin Music
Soundtrack creation and production: Andre Faria, Murilo Faria, Yuri Chix And Rafael Campanini
Finalization and SFX: Murilo Faria And Yuri Chix
Account services: Juliana Tangary And Carolina Couto
Digital producer: Santa Fé
Developer: André Coppola
Account services: Tatiana Coppola
3-D photography and post-prodution: Platinum