A love pillow for two
Sleep Country's "Couples Pillow" will help partners get extra close this Valentine's Day.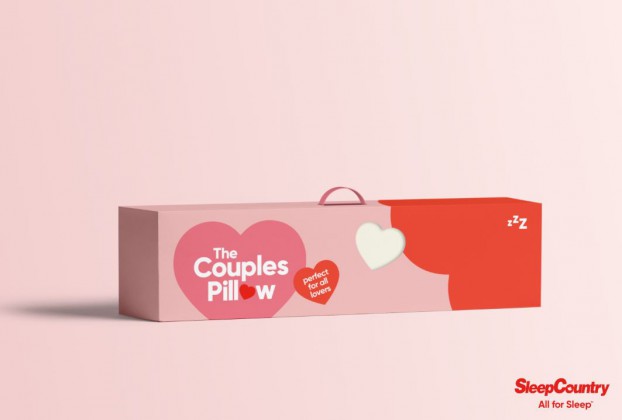 Valentine's Day just got a whole lot snugglier.
If you thought sharing a too-small twin bed with your partner was romantic back in university, now you can actually share the same pillow. Because nothing spells "love" more than breathing heavily into your partner's face, as he/she/they snore up a storm.
The "Couples Pillow" comes courtesy of mattress retailer Sleep Country, which took its Polar Tropic Body Pillow, flipped it horizontally, and said, "Ta-da!"
The extra-long pillow designed for two people is meant to address the "awkward and uncomfortable gap" that usually keeps couples apart on the most romantic day of the year. No one wants that. But especially not your partner, who's been sweet enough to keep the sheets clean by eating from a pizza box-turned-tray when chowing down on 'za from the comfort of his/her/their/your bed.
John St. and North Strategic are working on the launch of the "Couples Pillow," which will be supported on social and PR. At $139 apiece, they won't last long.
Credits
Client: Sleep Country
Agency: John St., North Strategic