Food that is most definitely NSFW
Norwegian retailer Kondomeriet gives you all the donut-related metaphors you need.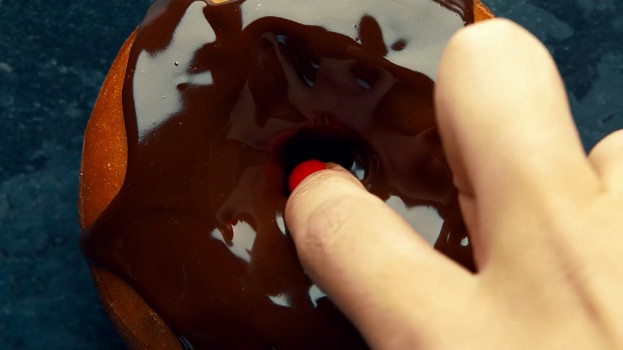 This Stim writer is taking a stand against a major issue: porn.
No, not the actual distribution of adult-targeted erotica. This is about the practice of calling everything "[something] porn." Pictures of really nice houses aren't "architecture porn," they're pictures of really nice houses. Tidying Up With Marie Kondo isn't "organization porn," it's a TV show. The Saw movies aren't "torture porn," they're just terrible movies.
And flatlay Instagram pics of your latest meal? They're not "food porn." They're just pictures of food.
There is, however, one exception to be made in the case of food porn. But you see, Norwegian agency Pol left this one up to the experts. Who better to come up with an ad featuring actual food porn than an adult shop?
Kondomeriet, a popular adult store in Norway, is celebrating its 30-year anniversary with a very indulgent and celebratory video. You see, media laws prohibit Kondomeriet from advertising any of its products visually. So it's going for very delicious metaphors. "Cheeky" eggs. Shapely buns. Dripping icing. Donut buttholes.
(This Stim writer would, in fact, like to go one week without having to write "donut buttholes," just once).
Dare we say it, this is the closest we've come to witnessing actual food porn.
Enjoy the ad, but do remember: this is NSFW territory. By which we mean, nutty, sweet, flavourful and wicked.
Credits
Client: Kondomeriet
Agency: POL, Oslo, Norway
Art director: Thea Charlotte Emanuelsen
Copywriter: Anders Arnoldsen Holm
Account director: Lina Aas-Eng
Project manager: Elle-Beth Lønnestad
Graphic designer: Pia Lystad
Production company: Flambert
Director: Henrik J. Henriksen
Producer: Eva Silset
DoP: Jens Ramborg
Editing: Pål Rui
Online: Terje Boye
Sound: Marius Brovold
Food stylist: Marianne Pfeffer Gjengedal
Grade: The Mill