(Bubble) suit up
A promotional video captures a former Toronto creative's hunt for a job (and insurance) in New York.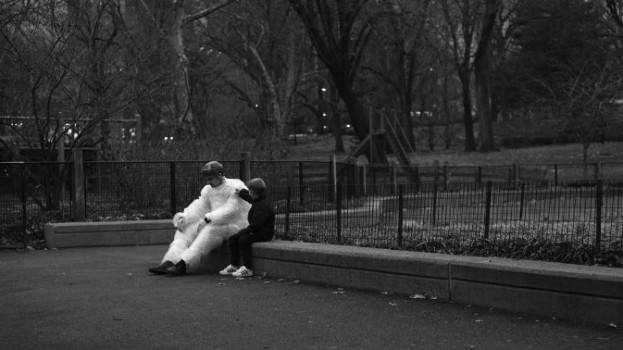 There's an episode of Friends in which Joey Tribbiani temporarily loses his health insurance, and he laments the days when it didn't matter if he were struck by a bus or set on fire. Fearing life without coverage, he goes on an audition spree, hoping to land a job with health insurance.
The same idea arises in Bubble Boy Crosses the Border, a promotional video by Cooper Evoy, a former associate creative director at Cossette Toronto.
Evoy bid farewell to the land of free healthcare and moved to New York City without a job at the beginning of February, leaving him without insurance. It's an intimidating prospect for someone accustomed to Canada's generous ways. But there's hardly a problem in this world that bubble wrap – and the right advertising idea – can't fix.
To announce his arrival and job search in the U.S., Evoy covered himself with protective bubble wrap and spent the day hitting up popular destinations in the city, including Washington Square Park, Times Square and Central Park. His childhood friend, Jon Weiman (who's also Canadian), directed and edited the resulting short film.
"As a creative, I pride myself on always going beyond the simple ask, so I thought this would be a fun way to demonstrate my dedication and willingness to do that," Evoy told Muse. "It's such a hyper-competitive job market in New York, and you're up against so many incredibly talented people. I knew I needed to go the extra mile to stand out."
The sad part is that Evoy actually hurt himself filming the video. As he explained to Muse, the scene were he faceplants skating in Central Park was not planned – though he had scripted a similar scenario. Luckily, the film was shot in December, and Evoy was able to fly home and take advantage of Canadian healthcare one last time.
Credits
Creative: Cooper Evoy
Director: Jon Weiman