Nespresso brews up OOH ads
The Swiss coffee co. is promoting its Vertuo system across the Great White North.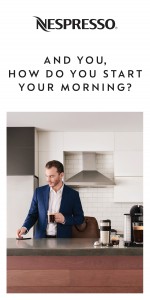 Is the ongoing coffee war *ahem* perking up in Canada right now?
It sure looks like it if you just, well, look around. Tim Hortons recently launched a new Tims Rewards program, while Starbucks recently announced its efforts to be 'greener.'
Enter Nespresso. The Swiss coffee company has always promoted itself as a premium product that can easily be made and enjoyed at home, and its recent push continues in that vein.
Its OOH ads, currently on the streets of Toronto and Vancouver, promote the brand's Vertuo machines. The sleek OOH creative can be seen at airports, in bus shelters and in the subway,  as well as via in-mall advertising and on trade partners' exterior billboards (such as the Hudson's Bay on Queen Street in the heart of Toronto).
At the same time, it's hard to escape Nespresso's fun ad featuring DILF George Clooney sparring with Natalie Dormer, the Brit queen of the silver screen. "The Quest" shows Clooney embarking on a hero's journey to find a decent cup of Joe, ending when he happens upon a Nespresso store (of course).
But for Nespresso, and its many rivals in the competitive coffee space, the quest to get Canadians to choose their brand continues unabated. Execs may need a sip, or three, of Nespresso to perk them up in the fierce battle for share of the Canadian coffee market.
Credits
Advertiser: Nespresso Canada
Production: McCann Montreal
Media: Wavemaker