Unraveling a well-intentioned message
Peace Collective turns MAGA hats into symbols of acceptance, but are they distracting from the full story?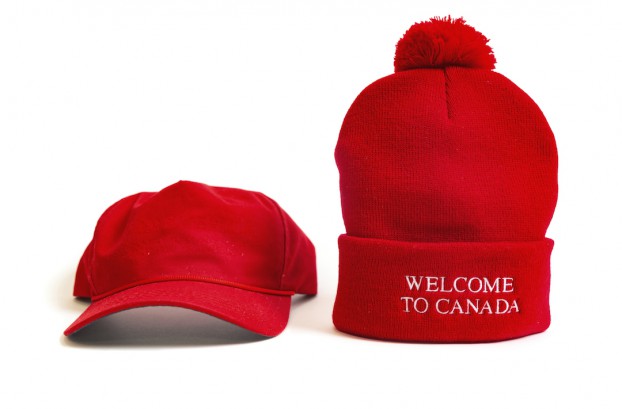 Taking something that has become a global symbol of hate and turning it into a symbol of acceptance and inclusion is a noble goal. Just be careful that you have a clear picture of the message you are sending.
Toronto-based clothing company Peace Collective is taking the bright red "Make America Great Again" hats – created as a campaign slogan for Donald Trump and now symbolic of the nationalist, anti-immigrant sentiment that some argue got him elected – and literally unraveling them and using the material to create red toques bearing the message "Welcome to Canada." Peace Collective says an unspecified amount of the profits from sales of the $28.99 hat are being donated to WoodGreen Community Services, a charity that helps refugees and immigrants settle into their new lives in Canada.
Peace Collective is promoting the collection on its social channels and with a video created by ad agency Zulu Alpha Kilo. In it, people such as a Syrian refugee, a queer American and a Ugandan immigrant discuss their stories, how they felt arriving in Canada and what the MAGA hat symbolized for them – perhaps putting into words a feeling familiar to anyone who gets nervous when they see someone wearing any red baseball cap these days.
Roman Hessary, co-founder at Peace Collective, said in a press release announcing "Welcome to Canada" that the collection is meant to embrace the ideas of diversity and acceptance that most Canadians would likely point to as a key part of the national identity. But, that intent rings a bit hollow when the same kinds of nationalistic rhetoric spread by politicians and pundits in the U.S. – and embodied by the MAGA hat Peace Collective's new hat is literally made from – also exists in Canada.
In the comments on one of Peace Collective's own Instagram posts about the hat, a user claims Canada is home to anyone, but only if they are "legally allowed to enter." Yikes. While another commenter asked: "Any analysis on Canada being on stolen land?" Despite the pointed comments, overall, the hat seems to have gotten a positive response, with the first Instagram post getting almost 4,000 likes in two days.
National ideals of inclusion can sometimes prevent Canadians from thinking more critically about how people are treated because "that just doesn't happen here" – even though the leader of the party currently leading many election polls spoke at a rally co-opted by anti-immigrant protesters, or as Canada incarcerates thousands of asylum-seekers and migrants every year in immigrant detention centres, or as the province of Quebec debates a law that would ban public employees from wearing religious symbols such as a hijab or turban. Hopefully, people who see Peace Collective's hat (and other pro-diversity campaigns in the future) might be compelled to think a bit harder about whether or not everyone truly is welcome in Canada and what else they can do about it.
Credits
Advertiser: Peace Collective
Agency: Zulu Alpha Kilo