What happened to the ParticipAction of my youth?
New OOH ads for the non-profit by Zulu Alpha Kilo forgo earnestness for frankness.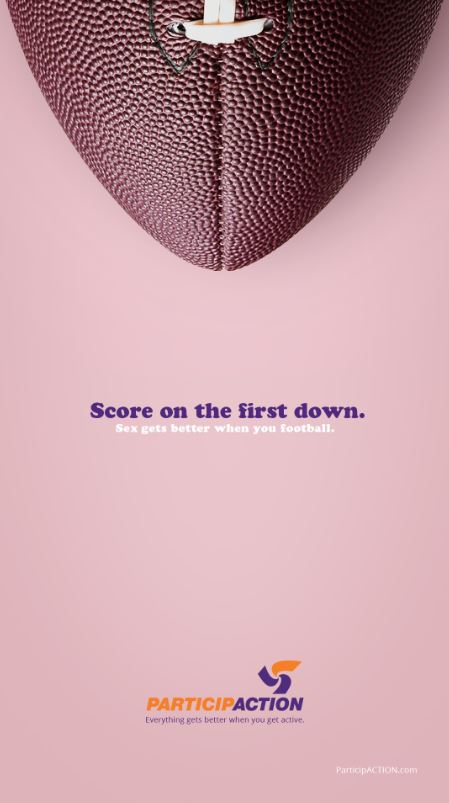 Well, this is a long way from the family-friendly Hal and Joanne McLeod TV ads that were ubiquitous in the '90s. The "Keep fit and have fun" segments by the spandex-clad couple offered wholesome, practical fitness advice to latchkey kids and adults whilst extolling the virtues of, say, snacking on fruit instead of candy.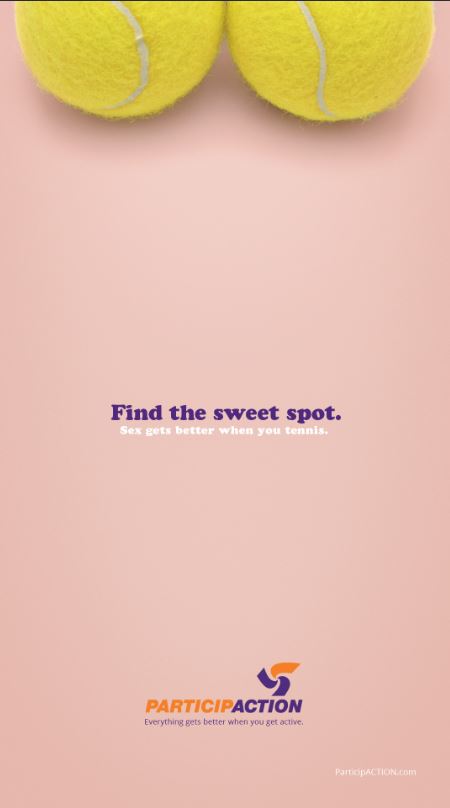 These new OOH ads for ParticipAction are purposefully only for the grown-ups, extolling the virtues of exercise on the court, in the field and, er, between two bright-yellow tennis balls. Last year, the non-profit took a sharp left and went in sometimes NSFWish directions with ads by Toronto shop Zulu Alpha Kilo that illuminate the benefits regular exercise has for things like problem solving, sleep, digestion and, yes, sex. The latest ads for the "Everything gets better when you get active" campaign zero in on that last bit and promote what the agency describes as a sex-positive vibe.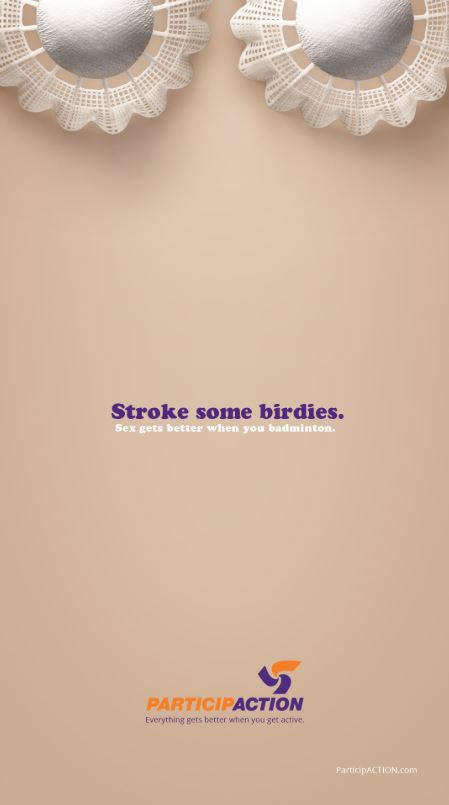 One of the four ads features two white badminton birdies cropped to look like, well, breasts in a bra, I assume? With text below that reads: "Stroke some birdies." Followed by the assertion that: "Sex gets better when you badminton." At the bottom of the page is the classic purple-and-orange ParticipAction logo of my youth. Some things never change, seemingly.
Frankly, seeing these make me pine for the days of the ridiculously earnest ParticipAction ads of yore. I get it, times change and brands change along with them. These admittedly well-written and well-designed ads are a bit too extra for me, but they got me thinking (and writing) about ParticipAction for the first time in a long time. Mission accomplished, Zulu Alpha Kilo, mission accomplished.
Credits
Advertiser: ParticipAction
Agency: Zulu Alpha Kilo
CCO: Zak Mroueh
CDs: Catherine Allen, Ian Simpson
AD: Manali Kulkarni
Writer: Dylan Verwey
Agency producers: Chelsea Elliot, Laura Dubcovsky
Account team: Robyn Morrissey, Lauren Boultwood
Strategic planner: Heather Segal
Media agency: Cossette
Media team: Dianne Yu-Kinsey, Erica Goldfarb