Real Canadian Superstore has a new rallying cry
Parent co. Loblaw continues to flex its marketing muscles in 2019.


Loblaw is reminding its competitors (and consumers) that it is Canada's largest grocer.
Since the start of 2019, the company has jolted moviegoers awake, celebrated Haulers and united food lovers and haters. Loblaw has also enjoyed YouTube hits with its "90,000 meals" ad and its series of PC Organics spots.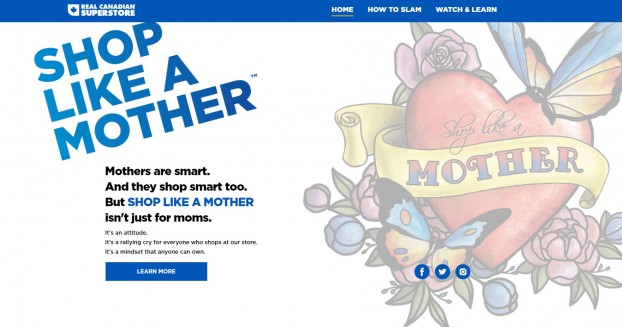 And on Sunday (Mother's Day), Loblaw launched yet another bold campaign, this time for its Real Canadian Superstore banner. The new "Shop like a mother" platform features everything from GIFs to a hashtag (#SLAM) to "a rallying cry."
There's also a series of fun ads, some of which feature Catherine Reitman from Workin' Moms, showing shoppers in very relatable situations, such as forgetting the cumin. I have done this. Haven't we all?
While this marketing onslaught happens to coincide with a very public backlash over Loblaw getting federal funding to retrofit fridges, these campaigns would likely have been planned well before the uproar.
The current advertising presumably has more to do with fighting back American behemoths, such as Amazon, Whole Foods Market (now owned by Jeff Bezos' Amazon), Walmart and Costco Wholesale, from eating into Loblaw's dominance in Canada. In its 2018 annual report, executive chairman Galen Weston Jr. wrote he had confidence in the company's strategy as it faced "growing competition."
This level of marketing implies Weston Jr. sees mass advertising campaigns as a key way to win the Grocery Wars. Your move, Bezos?
Credits
Advertiser: Real Canadian Superstore