Home Depot Canada shows customers the way
The retailer is confetti-exploding-level pumped for spring (and so are we).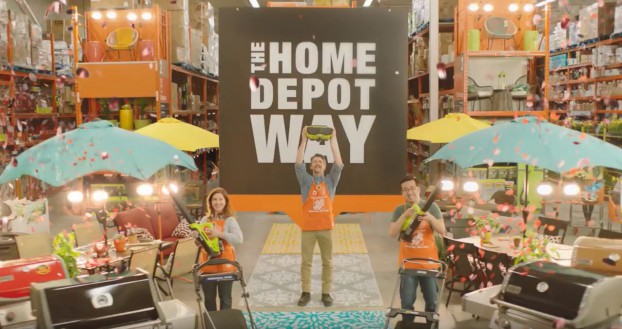 Spring is go time for retailers like Home Depot.
It's the time of year when Canadians swarm stores like a horde of ravenous mosquitoes up at your cottage on the lake. In our collective happiness (verging on hysteria) that winter is finally over, we all run out and buy BBQs and plants and candles to keep those pesky mosquitoes at bay.
Rival Canadian Tire recently unveiled two spring ads, one featuring a BBQ, the other featuring two unbearably cute bears. And Home Hardware has seen success with its "Here's How" platform in recent years.
Enter Home Depot Canada with a 32-second spot by AOR FCB Canada featuring a high-energy actor who looks like their answer to the hugely popular Trivago guy.
The silver fox explains "The Home Depot Way," walking around the store telling customers about "our best products at low prices this spring." He then pulls a Lloyd Dobler, holding a black-and-lime green Ryobi product high above his head as a sign comes down and the music turns way up. He's flanked by two colleagues who pump confetti into the air.
It's an unexpected and fun way to finish an ad about a big-box hardware store. Some may see this ad as over-the-top, but anyone who has survived a Canadian winter knows exploding confetti is the appropriate amount of excited to be that spring has finally sprung.
Credits
Advertiser: Home Depot Canada
Agency: FCB Canada