Target tells a whale of a tale in print ads
Newfoundland and Labrador Tourism's AOR makes pulling off captivating ads look deceptively easy.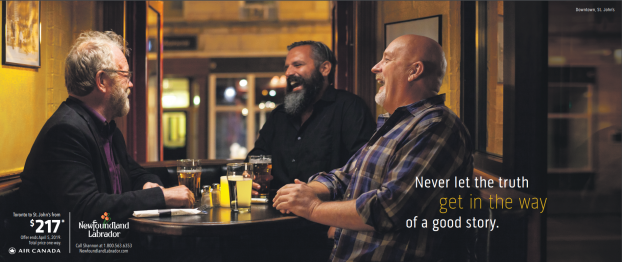 These days, advertisers are all about Instagram Stories this and Snapchat filters that.
But truly strong creative doesn't need any gimmicky tech hook to, er, hook consumers. Take Target Marketing & Communications latest "Storytelling" print ads, for Newfoundland and Labrador Tourism, which have been running as full-page ads in major daily newspapers.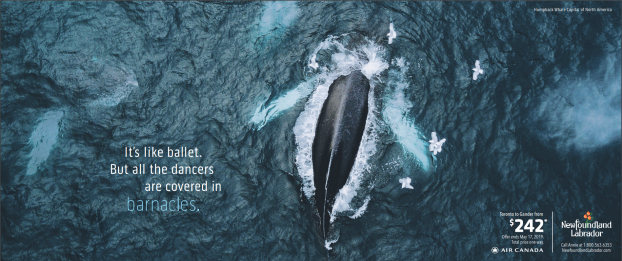 A stunning photo of a slate-grey humpback whale slashing through the ice-blue water is paired with just 11 words: "It's like ballet. But all the dancers are covered in barnacles." Like a ballerina pulling off a perfect grand jeté, the St. John's-based agency makes pairing just-the-right photo with the just-the-right words look easy.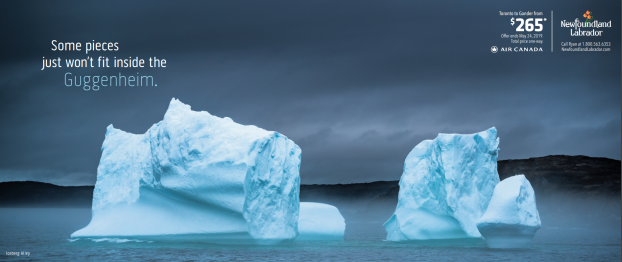 While the "Storytelling" campaign does include digital and social media components, it's the deceptively simple newspaper ads that pulled me in.
Kind of like a trip to The Rock, the ads remind viewers to put down your damn smartphone and look up to see a whale or iceberg jutting out of the water. No Instagram Story even comes close.
Credits
Advertiser: Newfoundland and Labrador Tourism
Agency: Target Marketing & Communications