Heads Up, Devices Down targets pedestrian safety
The Downtown Yonge BIA teamed up with Upstream for the new PSA.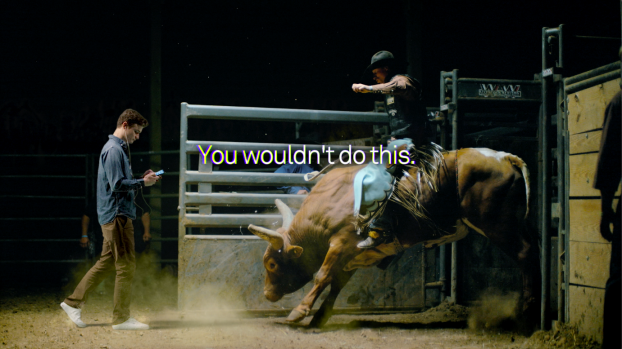 We've all done it. We've all been walking down the street, dashing across a parking lot, or through the door, phone in hand, staring at a screen scrolling when we should be focused on our feet and where it is they're strolling.
"Heads Up, Devices Down," a new PSA campaign from the Downtown Yonge BIA and content creators Upstream, is driving home the point to stay alert and stay safe. How embarrassing that we even need this, eh?
Launched around the Canada Day long weekend, still and moving images hit the screens at Toronto's bustling Yonge-Dundas Square and were targeted on social and digital as well.
Depictions of folks immersed in their devices were Photoshopped into scenarios where they unknowingly strolled into dangers like a raging bull bounding out of the starting gate or into the path of mountain bikers racing down a dirt path.
"You wouldn't do this," the text flashes across the screen. "So why do this?" it asks as the unsuspecting scroller continues on their merry way, the background morphing into a street of city traffic.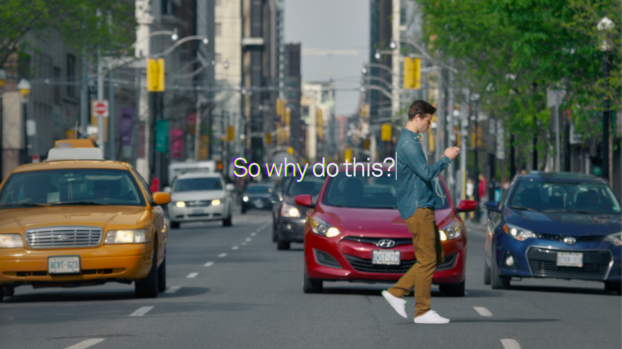 It's true. Technology has arguably melted our brains and turned us all into shells of our former observant selves. And the danger that staring into the digital abyss can pose is everywhere. You could get clobbered by an opening door along the sidewalk or crash head-on into someone else using your smartphone oh, so intelligently.
But, it's hard to say if distracted phone dwellers actually looked up from their phones to see the billboards above Toronto's busiest intersection. Good thing the ads also got play on social media.
Credits
Advertiser: Downtown Yonge BIA
Agency: Upstream