Schweppes Canada pops up with new ads
We raise an aluminium can to the heritage brand's simple, yet effective, creative.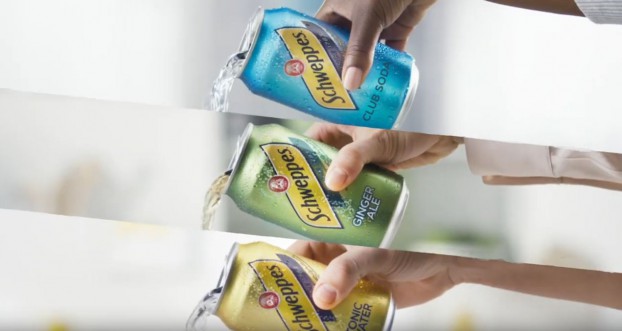 Like many millennials I have an embarrassing bubbly water addiction.
It's not just me who suffers from this affliction. Bubbly beverages, from club soda to tonic water to seltzers, are popping up on the Insta feeds and hands of many millennials these days. From the cult of LaCroix to Bubly to my personal fav, the Whole Foods house brand Italian sparkling water. This trend of sipping on sparkling waters, either plain or flavoured, clearly has not been lost on the marketers at Schweppes Canada, which has come back to advertising after years of silence.
"Schweppes is back advertising on television, and online, after many years with a colourful and dynamic ad showcasing the product's ability to be perfect for everyone's get-togethers," said Stéphane Renauld, director, brand management at Keurig Canada Inc., a Keurig Dr Pepper company, in an emailed statement.
A new 15-second ad posted on YouTube last month (which already has more than 2.5 million views) with the title "Schweppes: RefreSCHing your get-togethers since 1783!" reminds Canadians the brand has long offered canned bubbly beverages. The ad features three different people and three bubbled drinks, club soda, tonic water and ginger ale options. A voiceover explains the brand offers "three refreshing beverages to enjoy, any way you like" as images of raspberries, cucumbers and lemons are added to the drinks. The ad simply reminds people that Schweppes has offered these choices long before it was trendy to do so.
A second ad is approaching 6 million views since it was posted on Schweppes Canada's YouTube channel in April, priming Canadians to think of Schweppes cold drinks just as the weather was (finally) starting to warm up. The clean, millennial-pink hued ad is perfectly on trend as it promotes its new line of zero sugar and zero calorie sparkling sodas. Both campaigns are live until Aug. 11, then set to air on TV again this fall, there was also a #SchweppesOnTheRoad program, which allowed consumers to sample Schweppes's new sodas in major Canadian cities, including Toronto, Montreal and Vancouver.
While both ads by DentsuBos are more informational than inspiring from a creative perspective, they do show that well-timed and clear ads can pay off. While I'm sticking with my Whole Foods sparkling water, I think there's a clear thirst among millennials, in particular, for sparkling water in all its glorious forms and Schweppes seems prepped to bubble up as yet another option this summer and beyond.
Credits
Advertiser: Schweppes Canada (Canada Dry Mott's Inc., a Keurig Dr Pepper company)
Brand management director: Stéphane Renauld
Brand manager: Catherine Richard
Agency: DentsuBos
VP client services & associate: Dimitra Georgakis, Catherine Sicotte
Producer: Fanny Quenneville, Melissa Brisson, Vicky Painchaud, Vanessa Gervais
Strategy: Linda Frey
Creative director: Sebastien Rivest
Artistic director: Camille Forget
Copywriter: Michael Aronson, Amy Maloney, Alena Schwing, Chloé Nadeau
Account director: Eric Adechi
Account supervisor: Thibault Etheart
Advisor: Cloé Boulianne
Media strategy, execution: Mindshare Canada