Is it just us or is the Van Houtte Guy… cute?
The brand's "Master of Acrobatics" ad has our tummy doing backflips.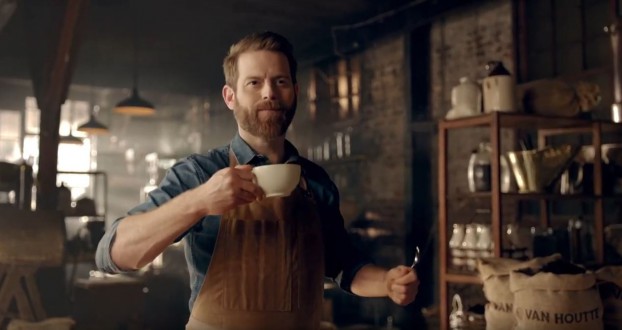 The Van Houtte Master Roaster is not a traditional heartthrob, but his latest turn, or flip, for the 100-year-old Canadian coffee brand has us wondering if this pitchman is actually as hot as a piping mug of coffee?
He's sort of like the the Trivago Guy, who had columnist Sarah Hampson admitting to finding him "sort of" sexy, noting: "He's got something going on. I'm just not sure if it's good or bad." After seeing the Montreal brand's latest Master Roaster commercial I have similar feels to Hampson, but about the Van Houtte Guy. He's sending strong Prince Harry vibes and like the prince he seems fun and, well, he has a ton of special skills, from master roasting to backflipping to skateboarding.
The ginger-haired pitchman, who first walked onto TV screens in 2017 impersonating everyone from Van Gogh to Van Halen, is part of a larger rebrand that started back in 2016 in a bid to perk up the company's image.
And the Van Houtte Guy is part of a larger trend towards using unconventionally attractive pitchmen, from Trivago Guy to Home Depot Guy to the Dos Equis Most Interesting Man in the World Guy, that have helped warm consumers to their brands.
In a sea of competition from rivals like Tim Hortons to Starbucks to your local indie coffee shop, a charismatic pitchman is a savvy way to brew up some interest in an old coffee brand. Mission accomplished, Van Houtte marketers, mission accomplished.
Credits
Advertiser: Van Houtte
Creative agency: Sid Lee