Liberals, Conservatives drop election ads
Justin Trudeau and Andrew Scheer both keep it intentionally bland, for now.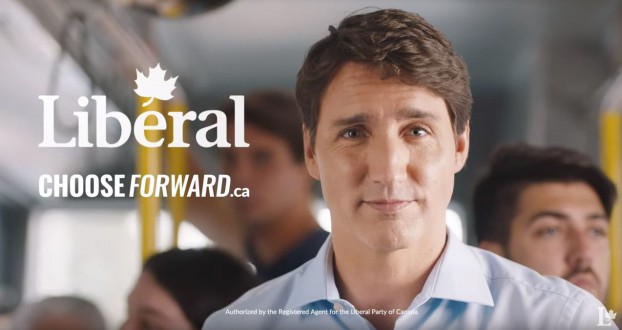 The Liberals and Conservatives are opposites in many ways. And so it is with new election ads that the two main federal parties dropped recently ahead of Canadians heading to the polls on Oct. 21.
Justin Trudeau's Liberal Party of Canada opted to post a one-minute version on its YouTube channel with the slogan "Choose Forward." Trudeau dons his signature blue-collared, button-down shirt with his sleeves rolled up (subtle!) in the ad that serves as both an origin story and a chance to dis his main rival, the Conservatives. The ad ends with Trudeau on what appears to be public transit talking directly to the camera, saying: "I am for moving forward for everyone."
In contrast, Andrew Scheer's Conservative Party of Canada video that was posted on its YouTube channel soon after Trudeau's ad is 30-seconds long and also features its leader in a blue-collared, button-down shirt, though Scheer did not roll up his sleeves. Intentional? Definitely. Everything from the shirt to the lightly-styled hair to the green leaves in the background would have been just as carefully considered by Scheer, as it was in Trudeau's ad. In Scheer's "My plan." ad he sits in a nondescript room and talks directly to the camera about, you guessed it, his plan if he were to become Canada's next prime minister. And, like Trudeau, he ends the Conservative Party of Canada ad with his party's election slogan: "It's Time For You To Get Ahead."
Both ads are pretty much par for the course when it comes to political ads in Canada these days, but as Election Day nears, expect the ads and rhetoric to ramp up with both leaders further highlighting their many differences.
Credits
Advertisers: Liberal Party of Canada; Conservative Party of Canada