Terry Crews ignites interest in Rogers
The Brooklyn Nine-Nine star is the latest American celeb to appear in an ad for the Canadian cable co.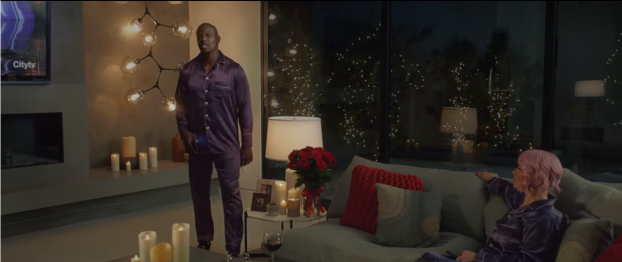 Talk about brand synergy.
Brooklyn Nine-Nine star, Terry Crews, stars in a series of fun new ads for Rogers' Ignite WiFi Hub service that's part of the company's Ignite TV. The comedy, of which Crews is one of the stars, happens to air on Citytv (see the logo on the TV behind Crews' head above?), which is owned by Rogers Media, a subsidiary of Rogers Communications. Coincidence? Uh. No.
Just like his fitness-obsessed character on the show, Crews' plays a fitness freak in Rogers' "Namaste" ad, which opens with him in purple silk PJs and ends with him in an all-white outfit doing a headstand. Impressive!
A second ad features him at dinner with what I'm pretty sure is his real-life wife and kid.
This is not the first time Rogers has used celebs from places outside of Canada and who happen to have shows that also air on Citytv. Which helps explain why American actress Lucy Liu and British TV chef Gordon Ramsay have been shilling for the Canadian cable co.
Commercials for Canada's big cable companies, a.k.a. Bell and Rogers, usually lack this level of star power so, if nothing else, having ads with Crews (standing on his head, no less) got my attention and made me giggle – what more could you ask for? OK, sure, I'd love a cheaper phone/internet/cable package to go with the fun ads. A gal can dream, right?
Credits
Advertiser: Rogers
Agency: BBDO Toronto
Creatives: Dom Raso, Anand Iyer, Ryan Lawrence, Mike Schonberger
Producer: Terry Kavanagh