Do you struggle with 'hockey butt'?
NHLer Dylan Larkin tries to address a common problem with pants and generates a different kind of interest.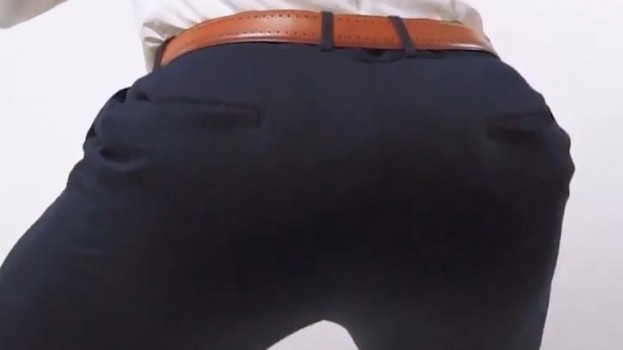 Dylan Larkin, 23-year-old forward for the NHL's Detroit Red Wings, has already accomplished quite a lot in his young career. In his rookie year, he set the record for fastest skater in the NHL. He led his team in scoring last season with 73 points. And now, he can add universal thirst object of hockey fans (and fans of other things) to that list.
To propel themselves around the ice, hockey players tend to have big quads, big thighs and big glutes. And with all that cardio giving them a slimmer waist, it results in a phenomenon called "hockey butt." And as Larkin himself describes in an ad for State & Liberty – a fashion retailer for athletes in Ann Arbor, Michigan, a short drive from Detroit – this makes finding well-fitting pants off the rack nearly impossible. They tend to result in a less-than-stylish bootcut look, and even custom-tailored pants make hockey players feel like their movement is limited. This is where State & Liberty comes in, as their pants are meant to stretch, giving players that tailored look, without feeling like they are going to, ahem, "bust through the seems," as Larkin puts it.
With the NHL season starting up tomorrow, we wanted to bring in a specialist to help shed light on a topic a lot of people are not comfortable talking about – The Hockey Butt. pic.twitter.com/egGPXduu8N

— State & Liberty (@StateAndLiberty) October 2, 2019
While there seems to be a smattering of genuine appreciation for the pants, most of the attention the video has received this week is instead going to the way Larkin chooses to prove the capabilities of State & Liberty's pants. Larkin squats, stretches and lunges his way through the ad, shot in close up on his thighs and butt. This has, perhaps unsurprisingly, generated a lot of interest among the butt-appreciating people of the internet.
I cant believe all it takes is a good hockey butt for me to lose all track of coherent thought https://t.co/79jd0gXgDz

— enrico (@andersenricos) October 2, 2019
everyone who's seen dylan's hockey butt commercial pic.twitter.com/rc29hhXq8W

— alexorcist abad satan (@alex_abads) October 2, 2019
"What are some qualities you look for in a man?"

Me: pic.twitter.com/CKE73ymh0z

— alexorcist abad satan (@alex_abads) October 2, 2019
Slide into my DMs if you too suffer from hockey butt. I'm tryna see sumn. pic.twitter.com/0IfBY3yGFa

— De-Aged De Niro (@yosoymichael) October 2, 2019