Ever try ghosting your food?
Burger King's new menu item is high in creep factor, low in calories.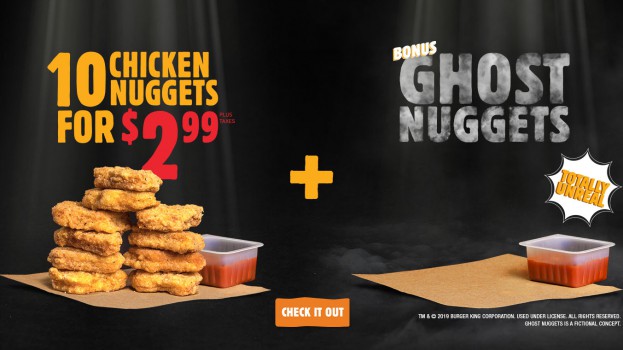 The buzz on everyone's lips this Halloween season? Ghost nuggets.
The new innovation from Burger King has snack fans atwitter with excitement. They're new, they're kooky, they're different and, best of all, they're free.
But what are ghost nuggets, anyway? Are they nuggets spiced with ghost peppers that leave your tongue tingling? Are they special diet nuggets? Are they nuggets that block you on social media the next day and don't return any of your calls?
Actually, some skeptics out there will tell you ghost nuggets aren't even real.
Like most supernatural theories, there are bigger, more powerful people behind ghost nuggets. In this case, the minds behind ghost nuggets are actually the spooky brain child of OneMethod, which was tasked with creating a quirky and engaging campaign for the QSR in time for Halloween. Banner ads, social content and pre-roll all lead to the ghost nuggets website.
It's a pretty great menu item. According to the website, the nuggets are vegan (score!), gluten-free (join the fun, keto friends!) and 100% supernatural (whatever you say, BK).
There's some extra, tangible fun along with the ghost nuggets; those who visit the site can download an interactive tray liner similar to an old-fashioned Ouija board.
And they say kids don't have a sense of imagination anymore.
Credits
Brand: Burger King
Agency: OneMethod