Pepsi sparkles in a new category
Attendees at BravoCon (or should we say BravoCannes) get access to a limited edition drink.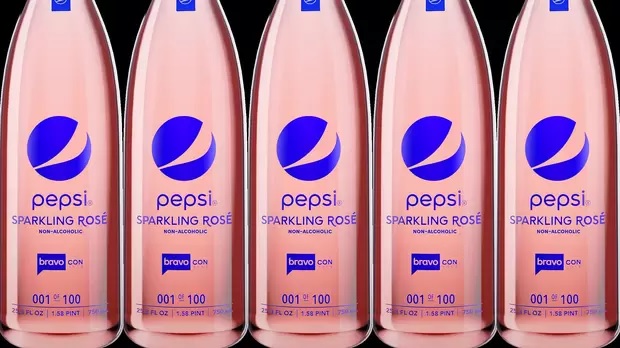 We've all been asked the question before – the soft-smiling, apologetic, "Is Pepsi okay?" by some poor server or fast food worker who hopes with every fibre of their being that yes, Pepsi is okay.
But usually that's when someone orders a Coke. Not when they're ordering off the wine list.
And yet, Pepsi is branching out onto the wine list. Kind of.
PepsiCo has created an alcohol-free Pepsi-branded sparkling rosé, which will be exclusive to BravoCon (a convention where you can meet the stars of Bravo's most popular programming, most notably the Real Housewives crew). As a sponsor of the event, Pepsi has designed a haute sparkling beverage in a glass bottle with a classic Pepsi screw top.
Early reviews are in for the beverage, which will be available throughout the convention from today until Nov. 17. Delish's Kristin Salaky reports that it tastes like "Diet Pepsi mixed with rosé," so… at least there's no surprises, right?
If you're (for some reason) inspired by this Pepsi rosé, we have a few more suggestions to offer:
Gatorade-flavoured bourbon;
Olives stuffed with Skittles;
Spam and Dorito paté;
Pop Rocks and caviar.