The (blue) and white ribbon
The White Ribbon Campaign's newest spokespeople are setting an example, and we need to listen.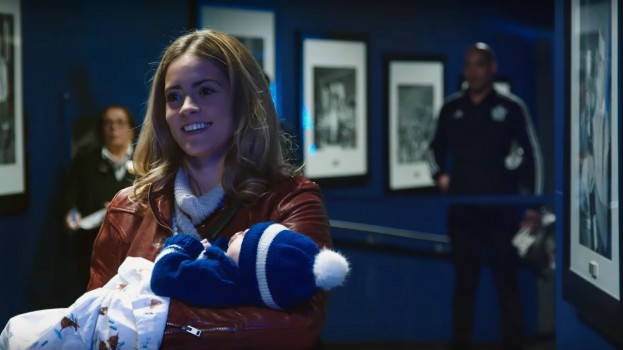 This Stim writer loves to laugh, and in fact is able to laugh at some of the most inappropriate things. Sometimes, life just gets hard and you have to chuckle despite everything.
But it feels impossible to be funny on a day like today, especially for a Canadian. Especially for a woman.
I was only six months old when the Montreal Massacre occurred, meaning I don't remember it. But there's something strange about being born the same year as a historic tragedy; for every milestone I celebrated, so too did that horrible day experience another milestone.
In 2008, I celebrated my "legal age" birthday and getting into university; it had also been 19 years since Hélène Colgan never got to take the trip she'd been planning with her friends to celebrate the end of the semester. In 2015 I turned 26 and started a brand-new job that I loved; it had also been 26 years since the driven and career-focused Barbara Daigneault's dreams were cut short. This past year, I rang in my 30th birthday watching a reunion show from my favourite band; it had also been more than 30 years since rock music fans Sonia Pelletier and Maryse Leclair saw their last rock concerts.
We've long been impressed by the creative from the White Ribbon Campaign, which was created in direct response to the Massacre two years after it occurred. It's focused its efforts proactively on men and boys, asking them to lead by example in standing up to violence against women. This means not only shifting how men relate to women, but also how men relate to one another; earlier this year it challenged gender stereotypes and encouraged healthy conversation around masculinity with its "Boys Don't Cry" creative by Bensimon Byrne.
This week, White Ribbon paired with a popular group of male role models, the Toronto Maple Leafs, to release a PSA on setting healthy examples as well as spreading general awareness about White Ribbon's history. Players such as defencemen Morgan Rielly and Jake Muzzin, goaltender Frederik Andersen and forwards Zach Hyman and John Tavares not only make vows to be better men, but also state specifically how they'll do so – such as challenging sexism, homophobia and transphobia when they see it, or opposing words or actions that perpetuate gender inequality.
Take a look at it here:
For this Stim writer, it's not just the giddy excitement of seeing some of her favourite athletes supporting a worthy cause; the context feels all-too-poignant. Currently, the hockey world is dominated with conversations about coaching styles, allegations of racism, emotional and verbal abuse and cultures of bullying at all levels of play. We've seen Coach's Corner host Don Cherry lose his broadcasting job, and Calgary Flames coach Bill Peters was recently dismissed from his position following allegations of racial slurs.
If hockey is, as they say, truly a way of life in Canada, then perhaps the examples set by men like Rielly, Tavares, Hyman, Muzzin and Andersen can lead the way to brighter days beyond just the rink. With the eyes of Canada's young men (and women) on this team, we sing the praises of this video and the message behind it. Let's hope the message extends beyond just today.
Geneviève Bergeron
Hélène Colgan
Nathalie Croteau
Barbara Daigneault
Anne Marie Edward
Maud Haviernick
Barbara Klucznik-Widajewicz
Maryse Laganière
Maryse Leclair
Anne-Marie Lemay
Sonia Pelletier
Michèle Richard
Annie St-Arneaut
Annie Turcotte
Credits
Brands: White Ribbon and Toronto Maple Leafs
Script: Bensimon Byrne
Video: In-house