We're not crying, we're just allergic to good parents
The new spot for the Government of Quebec tells Mila's story as it's meant to be told.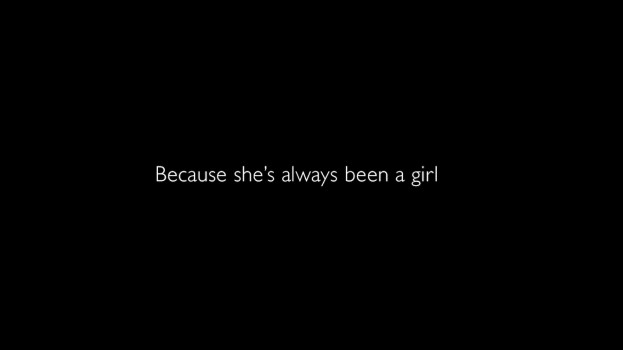 The Government of Quebec's newest spot by Lg2… well, it really has us going through something.
None of us are crying. We swear. It's just that it's allergy season and all. You know, in December.
In an effort to promote messages of not just awareness but true understanding of the lives of trans people, Lg2 created a spot featuring two proud parents of a teenage girl named Mila, who happens to be trans. They talk about her childhood, when she presented male, and how she longed for something, which for a long time, they could not quite figure out. They read the cards they had written to their "little boy" who was growing up so fast.
But this year, on Mila's birthday, her parents gave her something extra-special. They re-made cards from when she was young, before she transitioned – and addressed them not to their little boy, but to their little girl.
Because, you see, the message of the video is in the title: Mila was "born a girl."
Too often, well-meaning PSAs around trans identities can use over-simplified language, with a commonly thrown-around phrase being that a person was "born" the opposite gender (someone might say, for example, that a trans woman was "born a boy"). These phrases can be harmful and invalidating; stating that trans people were born a different gender that they are furthers the idea that they are not "really" their gender.
By referring to a trans person's pre-transition self as their realized gender, we are saying "This is who you have always been, we just didn't know it yet." Mila's parents have clearly already given her the gift of acceptance, but in this video, they also give her the gift of celebrating her life… as a girl.
This is part of a broader campaign by the Government of Quebec, which is attempting to raise awareness on violence of all kinds.
Now, if you'll excuse us, we have a mysterious fluid leaking from our eyes that we have to take care of.
Credits
Advertiser: Government of Quebec
Agency: lg2
Creative Director: Luc Du Sault
Creative: Félix-Antoine Belleville
Account services: Alexandra Laverdière, Laura Boutet, Isabelle Miville
Strategic planning: Christine Larouche
Director and editor: Phil Grenier
Director of photography: Alexandre Nour Desjardins
Art director: Jean Lafrenière
On-set art direction: Frederick Devost
Online: Thomas Bellefleur
Agency production: Marie Noëlle Rosso
Film production/casting: Romeo & Fils – France-Aimy Tremblay, Vanessa Vick, Marie-Chun Röfekamp
Card design: Julie Pichette, Sonia Delisle, Maryse Gagné
Sound engineering: Apollo – Tanguy Meunier