A gift for the Lucky lady in your life
If you want your girl to smell like roses, go to Lush. If you want her to reek of cheap beer for sad teenagers, look no further.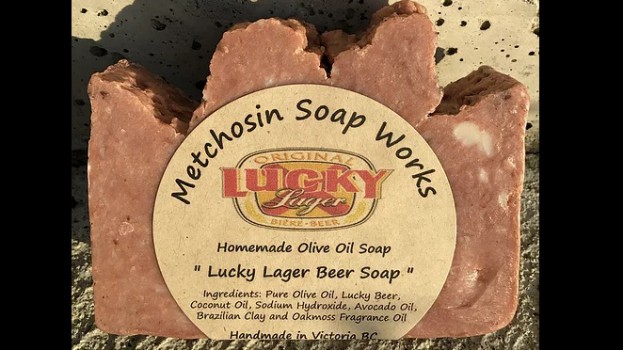 The best gifts are the ones that are a full-sensory experience, one that sends you back to a particularly special time in your life, fills your heart with warm memories and envelops you in a familiar embrace.
For me, this gift sends me back to my innocent youth in small-town Northern Ontario. Gritty, dirt-speckled snow crunching under my boots. Wind nipping at my skin. The sky on fire during a 5 p.m. sunset as I cut through the desolate playground by my house. My backpack heavy and bulging with beer bottles.
What do you expect? I'm from Timmins.
To be honest, all anyone would have to do is say the words "Lucky Lager" and I'm back in my hometown. You say "small town" and some people picture sweet mom and pop general stores and rosy-cheeked cherubs skipping through the snow. Believe what you will, but for me, it was a gritty place, where childhood fun meant getting a clump of your hair pulled out at a punk show in a rickety old venue, and drinking bad beer in a musty basement.
Lucky was our drink of choice – it was the original 'buck a beer,' back when we were scraping together loonies and toonies to split a two-four together. We'd beg someone's older brother to pick it up for us, divvy the box up in a secret location and then pull work socks over them to keep the clanging bottles from breaking in our backpacks.
I'm envious of people who pick up an apple pie-scented candle or a soap that smells like a meadow and say "This reminds me of my childhood!" Sorry my youth only conjures up the smell of snowmobile exhaust and cheap beer. If you want to buy me a soap (because what else do you buy women for Christmas except soap? Ladies love soap!) that reminds me of memories I don't really have, by all means, go to Lush.
If you want to buy me a soap that reminds me of my upbringing and gives me a little in-shower PTSD – that's "Precocious Timmins Sixteen-Year-Old Disorder" – you'll buy me this hand-made Lucky Lager soap, made in Canada from the real shit. Besides the brew that inspired the soap, this is made from simple, real ingredients straight from the earth. And, according to Barnivore, Lucky Lager is vegan-friendly (no fish bladders or weird milk ingredient here), meaning this olive oil-based soap by Metchosin Soap Works is also plant-based. Works for me.
Guys, if you can't tell, I actually want you to get me this soap.
Metchosin Soap Works also makes a small line of deodorants and mists, as well as soaps in normal scents for normal people. However, they do also have a Guinness Beer soap, because hey, check out the rich kids who could afford to party with Guinness. In the meantime, I'll be sudsing up in the shower to this decadent soap, listening to the tunes of Protest the Hero and the Constantines, and pretending it's 2006 except for the part where I fall asleep at 9:30 and my back is too damaged to haul that backpack around.