Ryan Reynolds takes one for the SickKids team
An animated video featuring an ugly sweater is the actor's way of asking fans to support the children's hospital.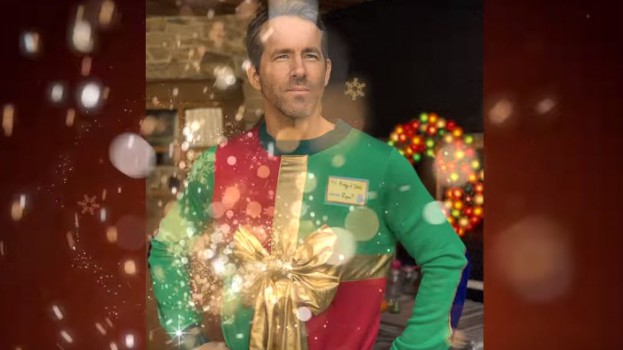 Those who are plugged into pop culture (i.e. not me) know that Ryan Reynolds is routinely pranked by fellow actors Hugh Jackman and Jake Gyllenhaal on social media, or something like that (apparently, the Green Lantern is also "the King of Twitter"? Who knew?).
Anyway, last December, Jackman and Gyllenhaal invited Reynolds to an ugly sweater party, to which the fashionable Deadpool actor wore a green and red sweater wrapped in a giant golden bow. A photo of the trio went viral when Reynolds revealed that he'd been tricked: the ugly sweater party was in fact  a regular sweater party, with him in outlandishly festive garb.
So this year, in spite of drawing further attention to the ruse, the Canadian actor (who first supported SickKids hospital in 2017) decided to put his embarrassment towards the greater good. With help from Rooster Teeth on production, he has released a animated spot featuring the now-recognizable sweater, along with pictures of 10 current SickKids patients and three hospital staff (an intensive care physician, an anesthesiologist and a nurse).
In return, Reynolds is asking for fans to support SickKids. He has committed to matching donations made to the hospital until Santa crawls down the chimney on Christmas Eve, up to $100,000. Now that's taking one for the team!
Credits:
Client: SickKids
Production: Rooster Teeth and Ryan Reynolds
Agency partner: Cossette