Nevertheless, Anne persisted
A group aiming to renew beloved series Anne With an E secured a billboard in downtown Toronto – but they're not stopping there.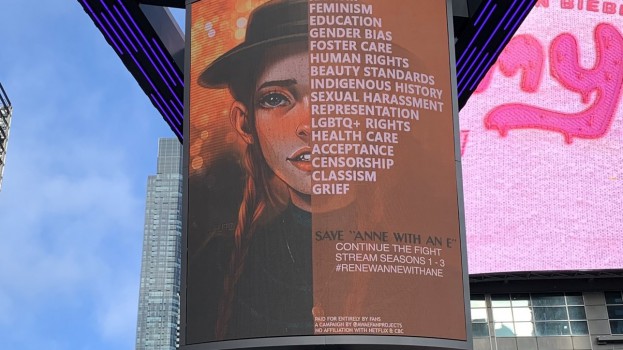 Since the CBC and Netflix jointly announced that their original co-production, Anne With an 'E,' would end after this season, there has been an outcry online from fans.
One group of devotees managed to take their message to the streets through a crowdfunded media buy and some gorgeous, artistic creative – one that captures fans' love of Anne while also showing exactly why the series was so beloved.
The group, Anne With An E Projects – which organizes itself under the hashtag #RenewAnneWithAnE on Twitter and Instagram – raised $1,000 through a GoFundMe campaign, enough to secure a three-day run on a digital billboard at Toronto's Yonge-Dundas Square. The art was designed by a fan and group member who goes by the handle @jhuffizi on Instagram. Besides Anne, her art includes stunning animated depictions of both original and fictional characters (including Joaquin Pheonix's Joker and characters from The Umbrella Academy).

The billboard has caught the attention of series star Katelyn Wells (who plays Mary-Jo) and has picked up some earned media coverage. Although there has not been any word from the series' networks or production company in response, the group isn't stopping: it is now raising funds for an OOH buy in New York's Time Square.
Credits
Advertiser: Anne With An E Projects
Artist: @jhuffizi