Uh, no, not that Windsor, the other one
We have to commend Wiser's on the timely creative, but we're not sure what Harry and Meghan will think.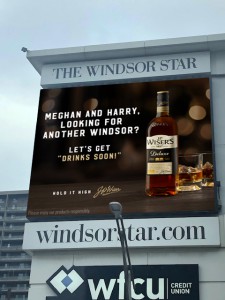 We'll spare you the details, since you've already heard it by now: a famous actress and some guy she married decided they no longer want to hang out with his British family that much, and would rather move to Canada.
While yours truly has historically never had any interest in the Royal Family whatsoever, we can't resist a reactive, clever piece of creative that capitalizes on relevant news. Corby brand J.P. Wiser's and its creative agency No Fixed Address took advantage of Harry and Meghan's big news in lickety-split timing with an OOH buy. But instead of displaying it at the centre of the universe in Toronto, Wiser's made the billboard buy in its hometown.
Why? Well, because the main Wiser's distillery is located in Windsor – Ontario, that is. It's an institution of the city, one you can smell throughout the entire east end. And the brand is banking on its hometown resonating with the Duke and Duchess of Sussex, if only because of the name.
The billboard carries the message, "Meghan and Harry, looking for another Windsor? Let's get drinks soon?" The concept is an extension of Wiser's ongoing "Drinks Soon" campaign, which encourages Canadians to follow through on their plans to get together for a friendly drink.
It's not the first time a Canadian city has used the same-name connection to get attention amidst a Royal Family Frenzy. During Harry and Meghan's Royal Wedding, a Tim Horton's in London (not Ol' Blighty but rather the London known for being home to Storybook Gardens and the birthplace of yours truly) threw an old-fashioned Royal Wedding party outfitted with all things British – Union Jacks, formal Queen's guards, white table cloths and some special edition, Royal Wedding-themed treats.
Credits
Brand: J.P. Wiser's
Agency: No Fixed Address