Direct mail marketing at 'scale'
Trace the hilly terrain of a clever direct mail piece from Lexus and DentsuBos.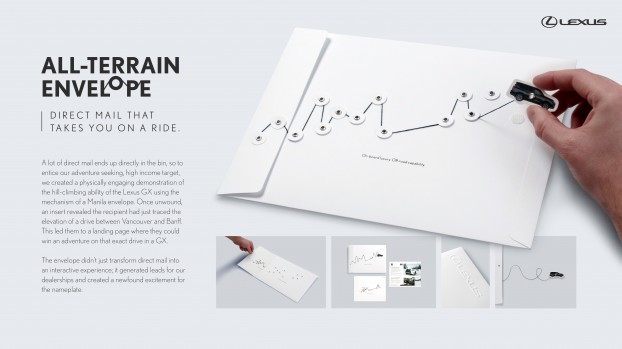 Let's talk about direct mail for a minute. Much of it (in our honest opinion) is as dull as a doorknob and most people arguably hate finding a stack of unsolicited letters with some sort of sell job in their mail box.
But we ask that you turn your attention to Lexus and its piece from DentsuBos as an example of how all direct mail should be done. Look to see the masters at work. Observe how they took the simple mechanism of a Manila envelope and turned it into a game of climb-the-hill. To open the letter, the recipient must remove and unwind a finger-sized Lexus GX from point to point in what is meant to be the drive between Vancouver and Banff. The point is to showcase the hill-climbing ability of the van to its target of well-to-do adventure-seekers. Those who were curious enough to unravel the mail were invited to enter a contest to win a trip along that exact mountainous drive in a GX.
(Also, hats off to DentsuBos for its continued innovation on the direct mail front – check out what it did for New Standard beer when it turned a mailer into a billboard.)

Credits
Agency: DentsuBos
VP, ECDs: Travis Cowdy, Lyranda Martin Evans
AD: Amber Arezes
Copywriter: Shane Rodak