Keeping up with Kim and Kanye's eating habits
In less than eight hours, KFC and Sid Lee cemented what would have been a fleeting moment in pop-culture history.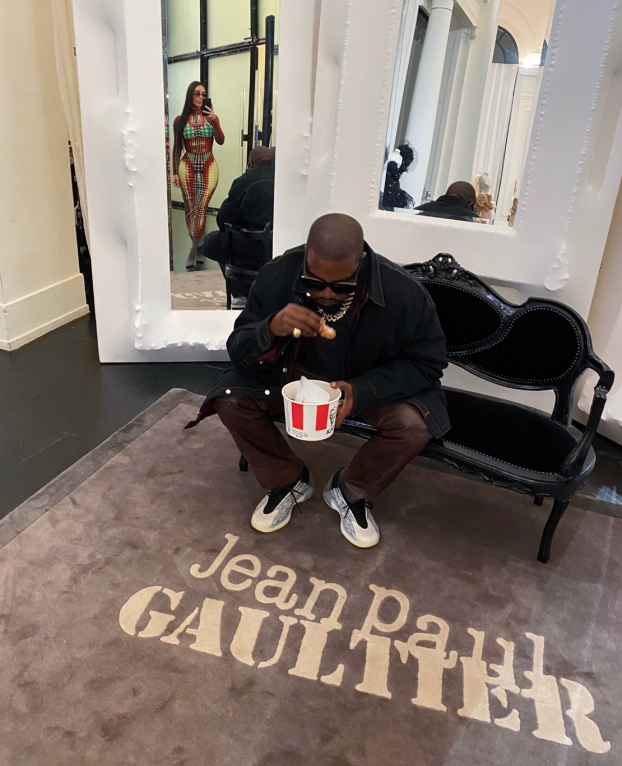 Stop us if you've heard this one before.
Kanye West and Kim Kardashian walk into a KFC in Paris.
They toddle up to a digital kiosk, push some buttons and raise their hands in frustration (as we all do with those things).
They pay, they collect and walk out of the fast food chain with a bucket of fried chicken in one arm and each other in the other.
At 11:12 a.m., a video of the most boring proportions is posted on Twitter, showing the "celebs are just like us" scene unfold.
At 6 p.m., there's a plaque above that same digital kiosk commemorating the morning's events, with the following engraved:
Kim Kardashian and Kanye West 
ordered at this kiosk 
19.2.20
Son of a gun, that's fast.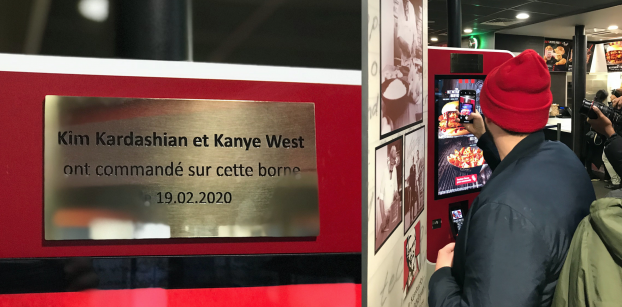 Give it to the Paris office of Sid Lee to come up with a ridiculous, but genius, lighting-speed idea at the drop of a hat. The agency works with KFC as its AOR in France, and it decided to take advantage of pop-culture and honour the occasion with not only the cartouche, but a timely tweet too.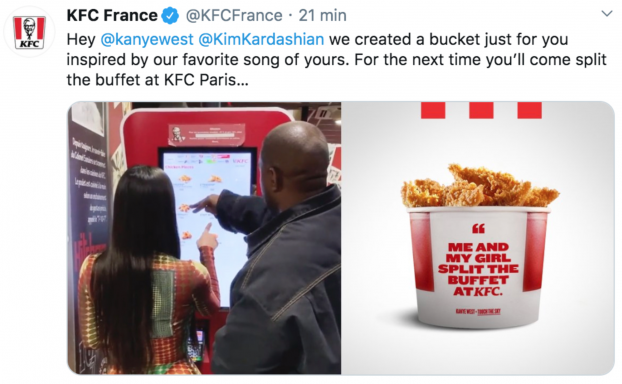 The bucket of chicken was named after a lyric in one of Mr. West's songs: "Me and my girls split the buffet at KFC." The "Touch the Sky" line also happens to be in the "Bucket Bangers" playlist that KFC created on Spotify last year, featuring a score of songs that mention the iconic QSR.
Credits:
Agency: Sid Lee Paris
Chairman – Executive Creative Director: Sylvain Thirache
President: Johan Delpuech
Creative Directors: Céline & Clément Mornet-Landa
Managing Director: Mehdi Benali
Art Director: Jessy Kikabou
Copywriters : Julien Sens, Max Harrington
Group Account : Héloïse Marchal
Senior Account : Camille Caucat
Account Executive : Yoann Deminiac
Head of Social Media: Alexandre Ponte
Head of Production: Thomas Laget
Producer : Julia Bakola, Lisa Beck