The best spokesman for the best chili
Bush's Beans enlists an actor from The Office to show us how to finally taste Kevin's ill-fated pride and joy.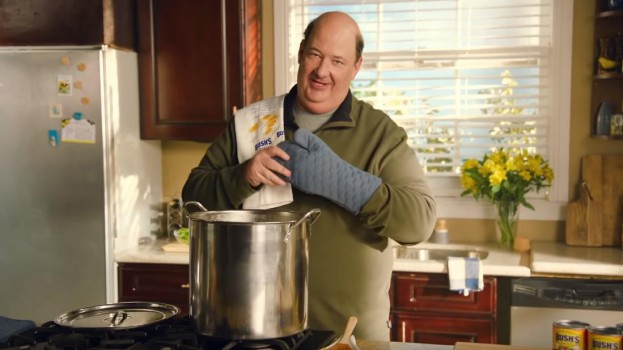 Brian Baumgartner is best known for playing loveable oaf Kevin Malone on The Office, a character who is known for his desperate attempts to salvage the one thing he is really good at, the thing that brings him and his coworkers closer together, and his worth the hours of work he puts into it: his famous chili.
The cold open from the series has lived on in infamy more than a decade after the bit, and has become a tragically relateable meme for everyone who's ever had something they care about blow up spectacularly in their face.
Baumgartner seems to have learned from his time on set, as a video detailing how to use Bush's Beans for the perfect Chili Day recipe starts with him carefully avoiding another pot-dropping mishap. However, after we viewers are able to stop holding our breath, Baumgartner ends up in a number of other kitchen foibles, like not putting the lid on his food processor or forgetting how to spell the word "best" without consulting the Bush's can. Well, that's understandable, there's a lot of pressure when the camera is on, and at least the pot is safe and secure – oh…oh no.
(For those of you who now have a craving they can't shake, Brian's chili recipe is available on the Bush's website).