She/Her(shey)
We've got one word for this International Women's Day effort: sweet.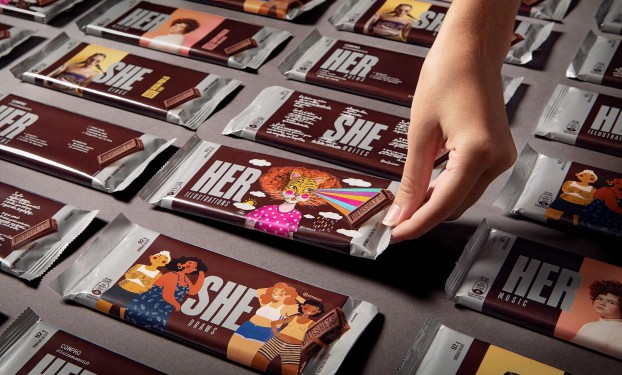 Sometimes campaigns around International Women's Day can seem a little cutesy, a little sweet. Well, this effort by Hershey's might have a good amount of sugar in it, but we consider it anything but sweet. It's edgy, it's forward and damn, it's creative.
Working with BETC São Paulo, Hershey's took a creative approach to its packaging that built upon its name. This Stimulant editor will readily admit that she didn't realize that Hershey's name is comprised of two pronouns (Her/she – get it?), but that became the jumping off point for six different artists who were tasked with creating a series of wrappers for Hershey's that reflected their tastes, their visions, their passions.
The artists chosen were illustrators Ana Flávia (@affnana) and Alessandra Lemos (@loleland), writer Luiza Mussnich (@luizamussnich), post Camila Lordelo (@euliricas), and musicians Yzalú (@yzalu) and Bruna Mendez (@brunamendez). The campaign incorporates their art through packaging, written copy and even QR codes linking to the musicians' respective songs. The wrappers include either the "Her" or the "She" of the Hershey name, fashioned into phrases like "She sings" or "Her illustrations." Hershey's is going further in-depth with a showcase of the artists' talents online and on social media.
One word: sweet.
The campaign launched March 5.
Credits
Client: Hershey's
Agency: BETC/Havas
CCO: Erh Ray
Executive creative director: Andrea Siqueira
Creative director: Andrea Siqueira, Gabriel Sotero e Murilo Melo
Creative team: André Batista, Diego Canhisares, Fernanda Peka, James Döring, Milena Cabral, Rodrigo Casanovas.
Account: Fernanda Modena, Izabel Petegrosso e Renan Santos
Media: Carlinha Gagliardi, Carlos Jordão, Julia Camargo e Dorilangio Souza
Strategy: Agatha Kim, Renato Duo, Mirella Nascimento, Milena Nakata, Isabela Cury e Jessica Scaraficci
Producer: Anna Luisa Ferraz, Andrea Carmassi e Priscyla Farina
Artists: Ana Flávia, Bruna Mendez, Camila Lordelo, Lole, Luiza Mussnich e Yzalú
Voice of the film: Yzalú, cantora participante do projeto
Photographer: Genga Estúdio
3D producer: Origolab
Editing: Tiago Hasegawa
Sound production: Jamute
Account: Kiki Eisenbraun e Sabrina Geraissate
Coordinator: Juliana Zuppo e Cassia Garcia
Sound design: Fernanda Galetti
Advertiser: Marcel Sacco, Emerson Cação, Rodrigo Campos, Larissa Schreiner e Ana Fontes