Burger King starts a flame war
Troll level: off the charts.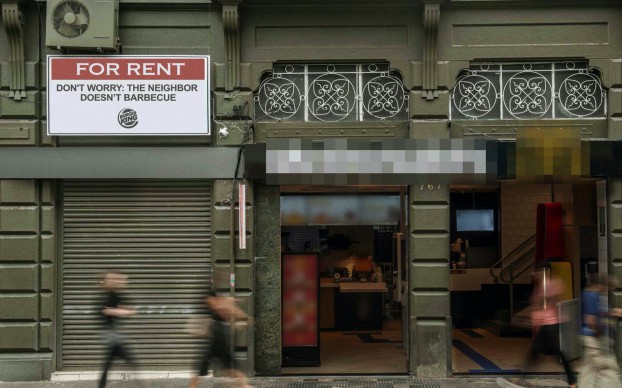 Burger King has never been afraid of a good flame war — after all, it's perfectly in line with its branding (the QSR has long taken pride in its process of flame-grilling its burger).
So it makes sense that the latest outdoor campaign from Burger King's Brazil operations calls out its competitors through some backhanded compliments.
Working with Sao Paulo agency David, BK hung "For Rent" or "For Sale" signs on buildings next to its largest competitors. They advertised space for rent with attractive features such as "Don't worry: The neighbour doesn't barbecue" and "BBQ smoke-free tenant below."
Accompanying the messages was a phone number — those who called were directed to an audio recording of why a smoke-free restaurant makes a good neighbour, but a smokey restaurant makes an even better burger.
The troll level is off the charts. And so is our hunger.
Credits
Brand: Burger King
Agency: David  São Paulo/Madrid
Global CCO & partner: Pancho Cassis
MD, global COO: Sylvia Panico
Creative VP: Rafael Donato, Saulo Rocha, André Toledo
CD: Fred Bosch, Álvaro Palma, Edgard Gianesi
ACD: Rogerio Chaves, Fabricio Pretto
Copywriter: Guilherme Pinheiro, Toàn Trần Mai
Art director: Rafael Ochoa
Account: Carolina Vieira, María García, Rafael Giorgino, Juliana Chediac, Martina Adati
Planning: Patricia Urgoiti
Media: Marcia Mendonça, Mateus Madureira, Felipe Braga
Innovation: Toni Ferreira
Producers: Fabiano Beraldo, Fernanda Peixoto, Patrícia Barbosa
Editor: Victor Folha
Social media: Lucas Patrício
Production company: Café Royal
Photos: Hanna Vadasz
Sound Production: Jamute
Client Approval: Ariel Grunkraut, Thais Nicolau, Filipe Botton, Fernanda Harb, Lidiane Martins, Vinícius Simon de Freitas