What once propped up a box, now props up a pizza
The IKEA Sava is here to save-a your pie.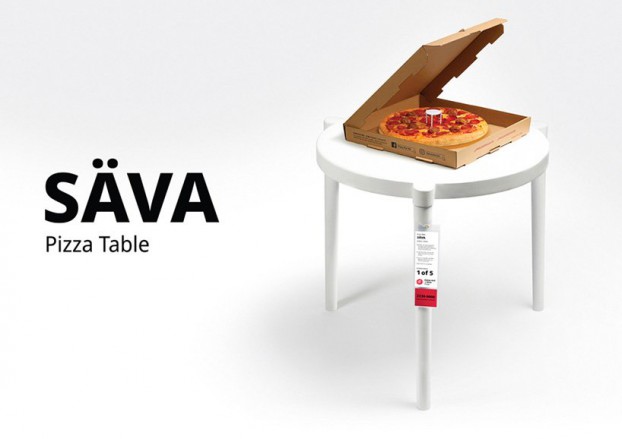 Pizza savers have always been awesome. Sure, it took until a 2018 initiative between John St. and Boston Pizza that proved pizza savers are like mini patio tables for people to realize how cool they are, but pizza savers have actually been around, and literally saving your pizzas since the 1960s.
But now, IKEA has upped the ante. Working in partnership with Pizza Hut and Ogilvy Hong Kong, the furniture giant asked the question we have all been too afraid to ask: What if the best place for a pizza saver was not on top of a pizza, but under it?
The three partners came up with the Säva, a minimalistic white table modelled after a pizza saver. The limited edition product was available to customers in Hong Kong who ordered one of Pizza Hut Hong Kong's promotional new pizzas featuring IKEA's iconic meatballs.
Naturally, the Säva comes in a pizza box, but one adorned with IKEA's oh-so-recognizable instructions on how to assemble it.
There is no official word on whether or not the Säva would actually work as a pizza saver for the world's biggest pizza, but a girl can dream, right?
Credits:
Brand: Pizza Hut Hong Kong, in partnership with IKEA Hong Kong
Agency: Ogilvy
Chief creative officer Asia: Reed Collins
Executive creative director: John Koay
Executive creative director: Matthew Nisbet
Creative director/head of art: Michele Salat
Associate creative director: Ollie Davis
Associate creative director: Amy Cheng
Senior art director: Soenar Santoso
Photographer/senior art director: Lucy McNally
Executive group director: Iris Liu
Account director: Vincent Lam
Account manager: Rachel Tsui
Account executive: Clover Yuen
Content lead: Ray Lam
Content strategist: Jim Wong
Content specialist: Ricky Chung
Senior brand strategist: Kaycee Li
Head of production: Jacqueline Ho